Perera did not take dressing room help for DRS review: SLC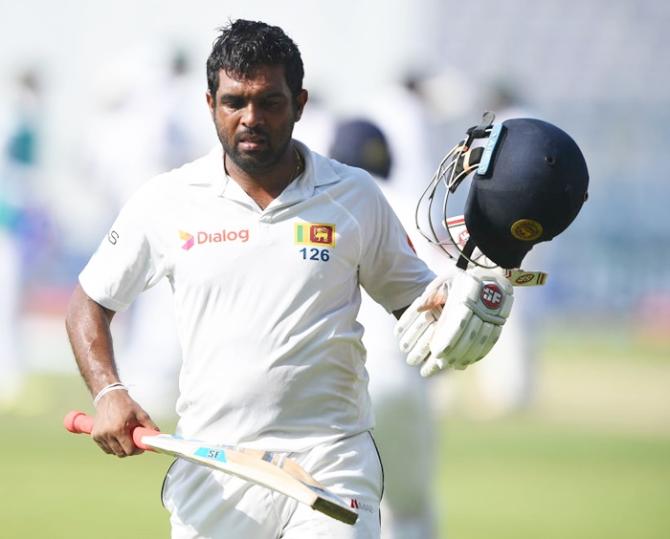 IMAGE: Dilruwan Perera of Sri Lanka. Photograph: Tom Dulat/Getty Images.
Sri Lanka batsman Dilruwan Perera, on Sunday, courted controversy when it appeared that he may have sought dressing room help for taking a DRS review call even as Sri Lanka Cricket outrightly rejected the assumptions.
Perera was adjudged LBW off Mohammed Shami by on-field umpire Nigel Llong in the last ball of the 57th over when he was struck on the backfoot by an in-dipper.
After having an eye-contact with his partner Rangana Herath, Perera started walking towards the pavilion but turned and asked for a review after looking at the dressing room.
Coming to the defence of the batsman, SLC claimed that confusion regarding availability of referral delayed Perera's decision.
"Contrary to the assumptions made, there was no "message from the dressing room" involved in the requested review," SLC said in a statement.
"Having mistakenly assumed that Sri Lanka were out of reviews, Dilruwan Perera had turned to leave the field when he heard Rangana Herath inquire from the on-field umpire Nigel Long if Sri Lanka have any reviews left, to which Mr. Long answered in the affirmative. It was then that Dilruwan requested the review," the statement added.
"We wish to place on record that every single Sri Lankan player and official is not only strongly respectful and bounden to uphold the rules and regulations of the ICC, but plays their game of cricket under the ethics and principles of true sportsmanship and the Spirit of Cricket."
Australia skipper Steve Smith had also attracted a similar controversy this year in March when during the India- Australia Test match in Bengaluru he sought dressing room help for taking a DRS call.
Smith had later blamed it on a 'brain-fade' moment.
While the Indian team did not react, former India cricketer Sanjay Manjrekar opined that there was nothing wrong in taking help from the dressing room and rules should be changed for the sake of correct decisions.
India paceman Bhuvneshwar Kumar said they avoided any reactions since the officials also did not say anything.
"We didn't pay much of attention as we were busy in celebrating. Then we saw it on the replay but no one commented as nothing was official about it. If we said 'they made a mistake' but match referee thought otherwise then it would have been wrong on our part. Any opposite comment is wrong till it's clear," Bhuvneshwar said after day's play.
Sri Lankan batsman Rangana Herath, who was at the non- striker's end, defended his partner.
"I was asking for review to umpire Nigel Llong, maybe Dilruwan also heard that and after that he asked for it. I did not call him back, I was asking for a review, that's all," the 39-year-old said.
Asked whether Perera sought assistance from dressing room, the senior-most Sri Lankan cricketer said, "I did not see anything. As I said, I was looking at Llong."
Former Black Caps pacer Simon Doull however lambasted Perera, questioning the manner in which DRS call was taken.
"I don't like the fact that he looked at the dressing room, it is really not my concern whether he got any signal. As soon as he walked back to dressing room there should have been no review as he has no right. He conceded it the moment he walked back. Once you turn and go I think you are going to be under suspicion," he said.
Former Sri Lankan batsman and now a commentator Russel Arnold termed it an instinctive decision.
"We want the game to move on, yes there are emotions involved. But if you have a 15 second time it would be reasonable to make that call. It boils down to common sense which will prevail," Arnold said.
According the ICC Standard Test Match Playing Conditions for 2016-17, the umpires may decline a review if they believe the fielding captain or batsman has received any outsi