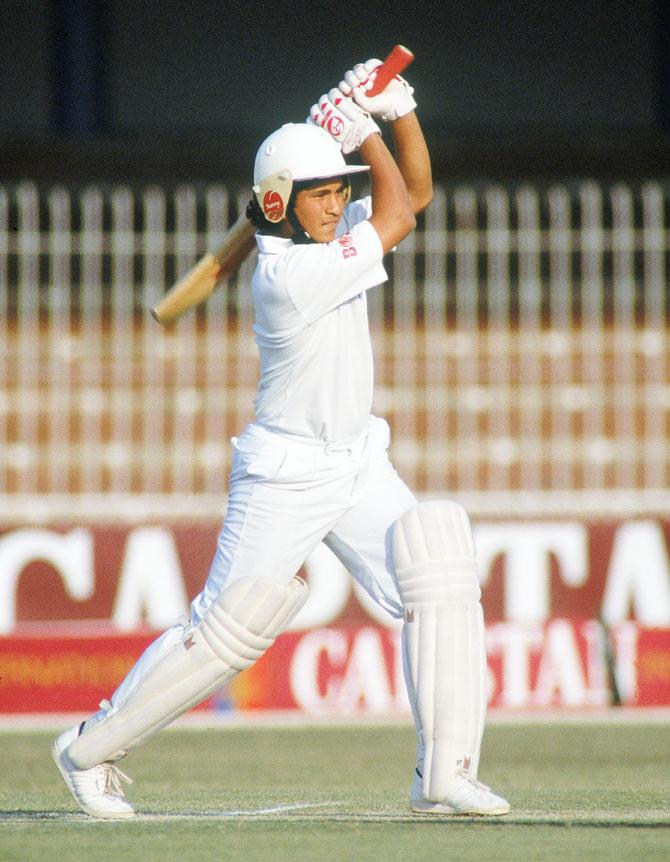 Sachin Tendulkar. Photograph: Ben Radford /Allsport/Getty Images
Former India spinner Maninder Singh looks back on Sachin Tendulkar's debut Test in conversation with Manu Shankar.
It was on November 15, 1989 that a diminutive 16-year-old boy made his Test debut against a fearsome attack in perhaps the most hostile environment one wouldn't want to play his first match.
200 Test matches and 25 years later, he still stands atop an Everest of batting records, with 15,921 runs, at an average of 53.78, 51 centuries and 68 half-centuries.
In his first innings in Test cricket he scored a patchy 15 before being cleaned up by another debutant, Waqar Younis.
But at the end of the Test against Pakistan, Sachin Tendulkar had the world talking about a lad who stood tall amongst the men.
Former India left-arm spinner Maninder Singh, recalling that tour and what struck him most about this boy with a cubbish smile, says: "Before the Pakistan tour I had seen him in his first Ranji game for Mumbai in 1988. He was the new kid on the block and I was bowling to him in the game. I remember telling my coach, Gurucharan Singh, at the time, 'this name, Sachin Tendulkar, you are going to hear it for a long, long time'. I told our coach, 'yeh lambi race ka ghoda hai [this is a horse for a long race]'," said Maninder.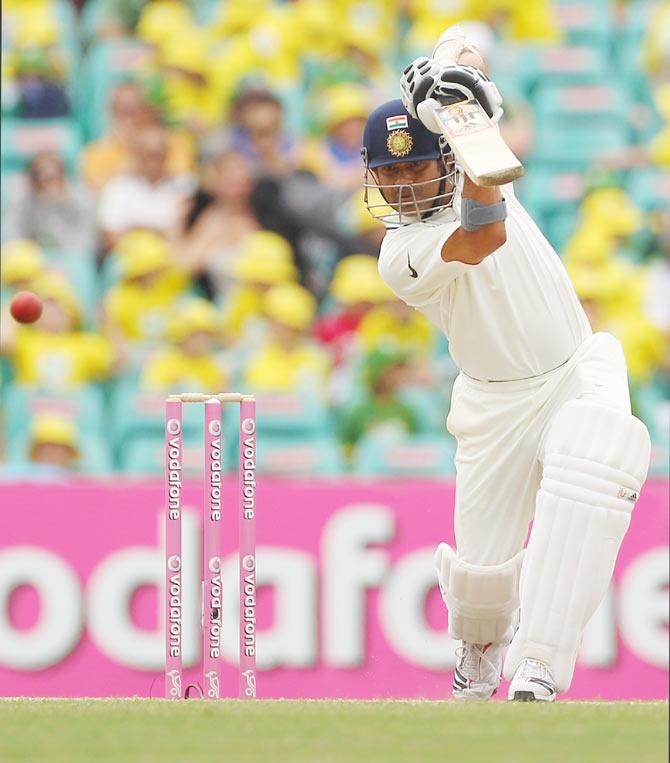 Sachin Tendulkar. Photograph: Mark Kolbe/Getty Images
"But, frankly speaking, I didn't want Sachin to be making his debut against the likes of Imran Khan, Wasim Akram and Waqar Younis.
"I didn't play the Test where he made his debut, but I was a part of his second Test and I was amazed to see the intensity of this boy who was facing one of greatest bowling attacks of the world.
"I've seen a lot of cricketers in my life, but none like Sachin. The determination to do well and to prove that he belongs here was something that struck about Sachin to me," he added.
Asked about the reaction in the dressing room when Tendulkar was struck on his nose by a Waqar Younis bouncer, Maninder said, "I don't know really what was said in the dressing room, but that bouncer surely woke him up and since then he has made the bowlers dance to his tune.
"The way he handled himself on the tour was amazing. Like any youngster, he was nervous ahead of the game, but, I think, the boundary he hit to get off the mark was something special.
Sachin Tendulkar. Photograph: Arko Datta/Reuters
"I remember Wasim Akram taunting Sachin, 'bacha aa gaya, yeh kya khelega [the kid has come, what will he play]'. And, boy, did Sachin not tell the world how to play the game?" said the 49-year-old former spinner.
"He settled down well as the tour went by and the half-century (59) he scored in Faisalabad was a great morale booster for the young Sachin.
"He had the 'wow factor' in him even as a 16-year-old."
On that tour of Pakistan the Indian team had great names like Mohammad Azharuddin, Kapil Dev, Ravi Shastri, Manoj Prabhakar and Navjot Singh Sidhu. Tendulkar played four Tests. At the end of it he had amassed 215 runs at an average of 35.83, with two half-centuries.