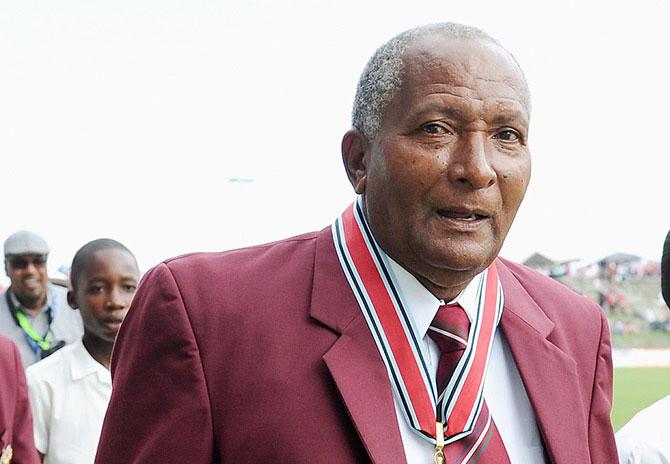 IMAGE: Former West Indian cricketer Andy Roberts. Photograph: Gareth Copley/Getty Images
Dejected by the shambolic state of the West Indies cricket team, legendary pacer Sir Andy Roberts feels the side is not even competing anymore and players cannot escape the blame by continuously citing their dispute with the country's Board.
The West Indies team has been in a state of decline for long, with matters going only from bad to worse owing to a running pay dispute between the players and the West Indies Cricket Board.
In 2014, the team had abandoned a tour of India midway through the ODI series because of this dispute.
"It doesn't make me emotional, it is very sad and disappointing to see the level that West Indies cricket has sunk to," he told reporters in Mumbai on Sunday.
"And I am going to not lay the blame totally on the Board, but I will lay the blame on the players, because the players have to take up responsibility to develop their cricket, so that they can have positive results.
"You don't have to win, all you have to do (is) to compete, but at the moment we (West Indies) are not competing, definitely not competing," he added.
Roberts said the ICC should have intervened during the 2014 crisis and tried to sort the problems between WICB and the players.
"The ICC (International Cricket Council) should have intervened a long time ago with the administration of West Indies cricket. When they had the problem of cancelled tour of India, the ICC should have intervened then. There is no point of the ICC intervening now... It's a West Indian problem," he said.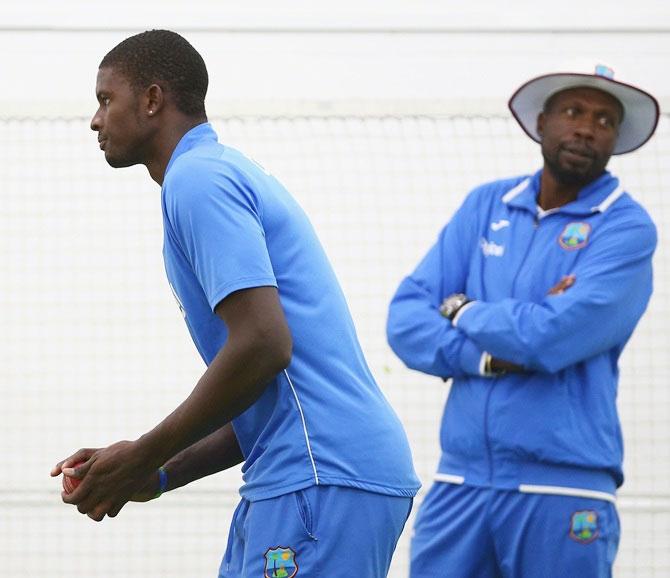 IMAGE: West Indies bowling consultant Curtly Ambrose (right) looks on as captain Jason Holder bowls in the nets. Photograph: Robert Cianflone/Getty Images
"And we hope that good sense would prevail with the administrators, so that we can get some of the former players involved with development of the cricket, not the administration...the development of cricket," Roberts, who has bagged 202 Test Wickets, said.
When asked whether giving captaincy to the inexperienced Jason Holder was a good move, Roberts said "it wasn't".
"I think they should have not given the captaincy to Jason Holder. Personally, I would have given captaincy to Kieron Pollard. There is talk he doesn't play four-day cricket, but he has better average than most of the players. I would have given captaincy to Kieron Pollard," he said.
When asked whether players who have indulged in corruption should be given a second chance in international cricket, the 64-year-old said, "Everybody should get a second chance... But why is it (that) only players suffer?"
On whether he would have liked to be a part of the Indian Premier League, Roberts quipped, "Only four overs to bowl, I would have loved (to)."