- 'They will be disappointed, there is no doubt about that because to win a game one or two bowlers can't do the job. You need to bowl as a unit.'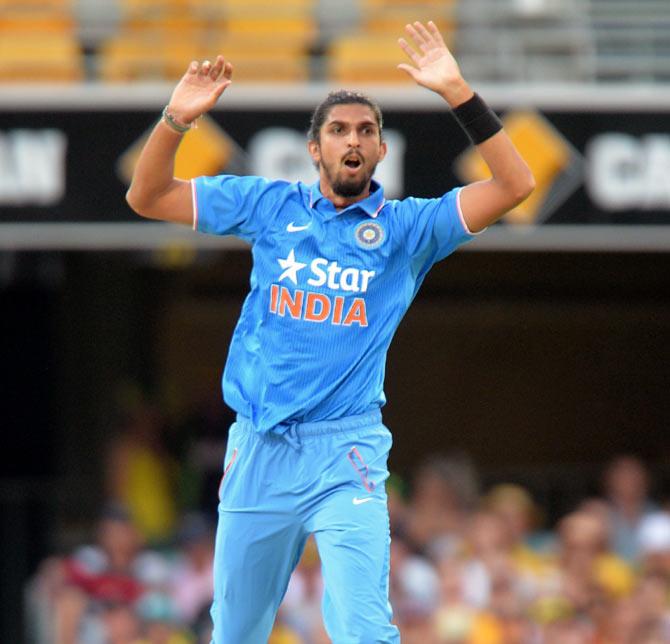 IMAGE: India fast bowler Ishant Sharma. Photograph: Bradley Kanaris/Getty Images
Putting the onus on Indian bowlers to stop Australia's winning juggernaut in the five-match ODI series, Team Director Ravi Shastri on Tuesday said the Mahendra Singh Dhoni-led side can certainly arrest the slide if the inexperienced bowling line-up learns from its mistakes.

Having already surrendered the series after three successive defeats, the visitors will be playing for pride when they take the field in the fourth One-Day International in Canberra, on Wednesday.

"If they learn from their mistakes they will stop it, yes," Shastri replied when asked if the bowling attack is good enough to prevent a whitewash.

Shastri, though, was critical of the inconsistent bowling attack in the last three games.

"They will be disappointed, there is no doubt about that because to win a game one or two bowlers can't do the job. You need to bowl as a unit. The reason why we did well at the World Cup last year was we had all the five bowlers firing.

"So when that happens then you have a chance of beating the best side in the world. But there are no excuses for bowling wides, so obviously they will be disappointed and they have to put their best foot forward," said Shastri.

"To apply finishing touch in close games, we need to bowl better and be consistent as a bowling unit. [Mahendra Singh] Dhoni mentioned in the press conference that there were too many easy boundaries. It's not that the batsman has to earn it but they are given like freebies. That should be eliminated. Even if you cut that by 60-70 percent, it will become an even tighter game," he added.
IMAGE: India captain Mahendra Singh Dhoni (right) speaks to team director Ravi Shastri. Photograph: Gareth Copley/Getty Images
India were outplayed in the first two games before they came up with an improved showing in the third ODI but still went on to lose by three wickets.

Shastri defended India's performance and claimed the series will be a good learning experience for the team, especially the bowlers.

"There is absolutely no shame in the way they have played despite recent results. Because I know there is only one way to go after this tour of Australia and that's going up. I know what happened 12 months ago after the Test series and I know where we stand today as far as the Test team is concerned," said the former India all-rounder.

"I see no reason why after this series am sure the bowlers will learn and we can go places. So disappointed yes because lets be fair we could have pulled one back especially in Melbourne. But it didn't happen and Australia played well,"

Shastri stressed on the need to build bench strength and also suggested that Board of Control for Cricket in India should look into sending an extra squad member on away tours outside the sub-continent.

"We need bench strength because this is one of the toughest tours. And I have been to Australia many times. In the last few days we have been through three time zones. And it's not often you go through that.

"You play in Perth, and you get on a flight and reach Brisbane where the time is different. Then to Melbourne where the time is different and all in the matter of six days. Now you consider all that and I think the boys have done extremely well," he said.

"And in the future I would suggest to the BCCI to have some extra players. Instead of just 15 on a tour like this, probably 16 would be advisable. Somewhere close to the subcontinent like in Sri Lanka, Bangladesh, or the Middle East, 15 is fine.

"But here when you travel that far, and suddenly you get injuries, I think it is something I will suggest. We need to have a bench-strength of atleast 7-8 bowlers have to be there all the time and there also there will be specialists for T20s, for ODIs and for Tests," he added.

Shastri also hinted about the return of premier off-spinner Ravichandran Ashwin's to the playing eleven after he was dropped for the third ODI in Melbourne.

"He is a seasoned campaigner and he is one of the best bowlers in the world. He has done fabulously well for us. Conditions demanded that we needed to look at other options and Ashwin's absolutely fine with that decision. He might play tomorrow, or in the next game," said Shastri.

"Our strength is spin because if you have experience in this bowling department, it's in spin. So we went with that experience in the first game and then realised that we need more bases covered. We need that extra option of a bowler. And hence we played Rishi Dhawan and Gurkeerat Mann because it gave you an extra option," he said.

Talking further about an all-rounder's role, he said, "Ravindra Jadeja has shown that in the Test series. He has matured a lot. He has played crucial innings in the Tests, so there is no reason why he can't play overseas. But you have to get the opportunity first. Every time he has gone to bat, it's been the death.

"And we have batted so well at the top that the opportunity has not been there for the lower order. But if and when there is a situation, there is the opportunity to chase, it will be the test. And I am sure he will be up for it."

Shastri was also quick to respond to a query on the Indian batsmen slowing down near milestones and whether it impacted the team score.

"If they were focusing on milestones, Virat Kohli wouldn't be the fastest to 7000 runs, he could have taken another 100 games. And if that was the case Rohit Sharma would not be having two ODI double-hundreds and a highest score of 264. That's my answer," Shastri signed off.