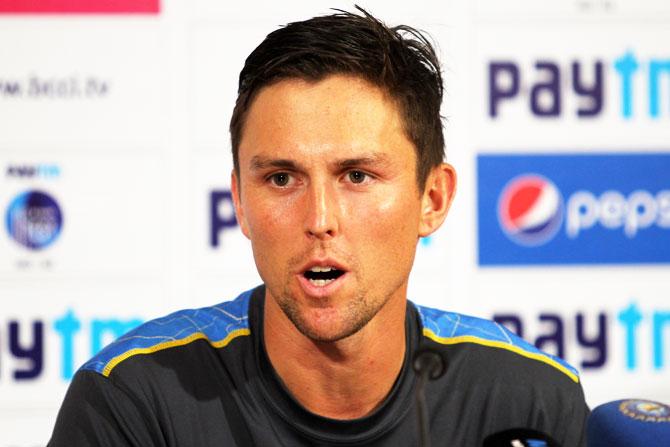 IMAGE: New Zealand's Trent Boult addresses the media after play on Day 3 of the second Test match against India at the Eden Gardens stadium in Kolkata on Sunday. Photograph: BCCI
The energy-sapping weather in Kolkata has severely tested the New Zealanders with paceman Trent Boult saying that he has never played in such hot and humid conditions.
"I have to put these as some of the tougher conditions I have ever played in my career. I am not too sure what it looks like on TV but it is pretty taxing. Obviously the dryness in the wicket and in the air is pretty tough," Boult, who finished with tidy figures of 2/28, said.
"The last session is probably the easiest session in terms of heat. You are just sapped by the time that comes around. The guys did extremely well to put the balls in the areas we did and apply that pressure.
"It was spoken in the huddle that we weren't just going to let them drift away with the game with a figure in mind. We wanted to put pressure on them and make them earn every run. I think we did very well."
Boult also hailed Rohit Sharma's splendid effort of 82 that helped India end the day on a high with a score of 227 for eight in the second innings.
"He applied himself very well and made some good decisions. He was tested there throughout. A lot of credit to him on a wicket that is going up and down, and (offering) a little bit of reverse swing there at the end. He batted very well and I couldn't see a change in his game."
Having dismissed Indian skipper Virat Kohli for 45 with a delivery that stayed very low, Boult said: "He is a massive player for them. It was nice to get him out eventually and we bowled very nicely to him to not let him cash in too nicely. To get him out for 30 or 40-odd was a massive wicket. We all bowled very nicely to him."
Boult particularly troubled Dhawan with high-rising deliveries leaving the left-handed Indian opener with a swollen thumb in his bottom hand.
"I was just trying to put the ball in a good area and set-up the team. I enjoyed it and it was very nice to get him out in the end. We've been mates now for a couple of years and he is a class player."
They may be trailing the three-match series 0-1 and New Zealand are on the mat, with India taking the overall lead to 339 runs with two more days left in the game, but Boult said they have not given up.
"We have to take it small steps at a time. If we can tick off our goals of trying to bat for half a session, then a session and just keep them out there and try to build like that. Anything that is set is definitely achievable."
Backing his batsmen he said they have quality in the line up to apply themselves in tough conditions.
"We have the guys with the ability to bat long periods of time. In terms of the wicket there is a little bit of variation in bounce, and that is obviously going to be in the back of our minds."
Boult was also all praise for 36-year-old Jeetan Patel who made a comeback after more than three years and was impressive with both bat and ball.
"He did very well. It's his first in a while and to come back and play an innings like that was good to watch. The rest of us can take a leaf out of his book and try to apply because they were valuable runs," he said of Patel who scalped 2/66 in India's first innings and became their topscorer with 47 to take them to 204.