'It's been a tough tour. When you lose games of cricket it becomes very hard and it can be quite a lonely place. You've got to give credit to India'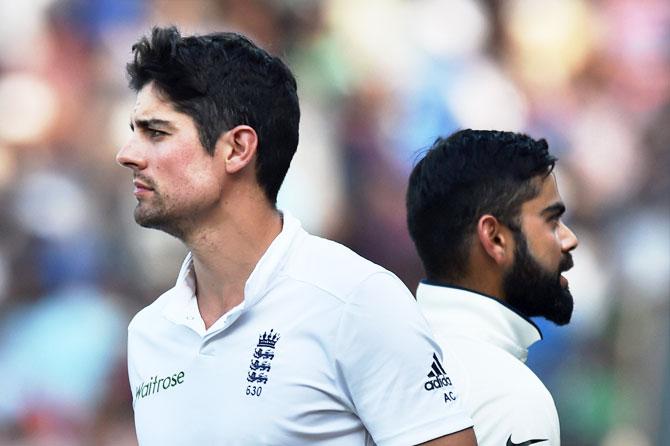 IMAGE: England captain Alastair Cook (left) walks past his Indian counterpart Virat Kohli after their Test series at MAC Stadium in Chennai on Tuesday. Photograph: R Senthil Kumar/PTI
Alastair Cook today said he won't make any foolish decision on his Test captaincy in the wake series defeat against India but admitted he needs to think if he was the right man for the leadership role.
- Cook yet to decide on England captaincy
England were drubbed 0-4 by India in the five-match series, which ended today with hosts' innings and 75-run win in the final Test.
"I've got to go away and do some thinking. This is not right time to make decisions as big as that. I need to go home first enjoy Christmas as much as I can do and then come back in January and look to plan with Straussy and see what's the right decision for English cricket," Cook said.
"I've got to go away and decide whether I am the right man to take England forward. It's the wrong time to make those decisions as energy is low and you can make foolish decisions."
Cook said he wants to come up with a sensible decision.
"When there's not a Test match for seven months it'd seem very foolish to stand here now and make a decision which either you regret or don't. If there was a Test match in three weeks time you'd have to think. But while there is a bit of space why not use it?" he said.
The England captain said defeats on the India's tour are difficult to deal with.
"It's been a tough tour. When you lose games of cricket it becomes very hard and it can be quite a lonely place. You've got to give credit to India. They've played some good cricket on the way. We knew it would be a pressure day today and at some stage we would lose wickets in clusters. We weren't good enough or skillful enough as players to stop that momentum. So, yes, it's tough."
"We've had some good moments as well, it's not all doom and gloom. I can't fault the effort in the dressing-room. We've stayed together as a team. Naturally, when things go badly, things can break up. But the guys have been brilliant in committing to the cause. We just haven't been good enough to put India under pressure for long periods," Cook said.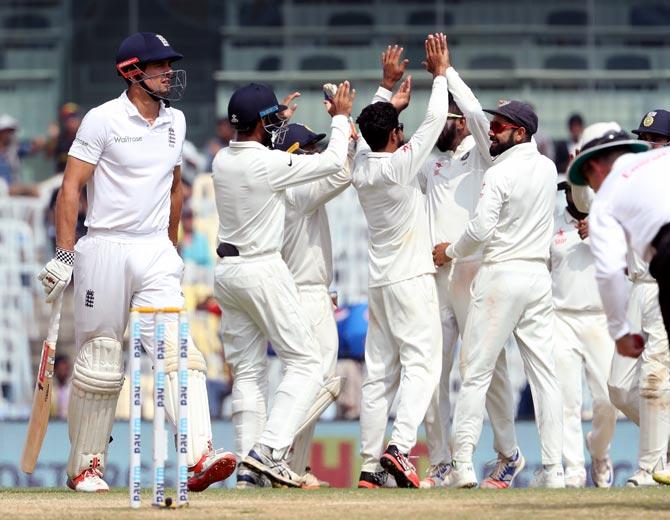 IMAGE: India's players celebrate as Alastair Cook walks back after his dismissal. Photograph: BCCI
In a candid admission, Cook said India were far better side than them even as England were not lacking in effort and their spinners were not as good as India's R Ashwin and Ravindra Jadeja.
"The momentum is very hard to stop when a side gets going like that with the crowd and everything. You need to play bloody well to withhold that pressure. We weren't good enough to cope. I'm gutted for the lads, it would have been great to escape with a draw but ultimately we weren't good enough.
"Blood, sweat and tears went into this tour but the bottom line is we weren't good enough to compete with India and that's hard to take."
Cook said to have better results in Indian sub-continent conditions, they need to have better spinners.
"I think everyone can see we are suited to playing in seaming conditions. These conditions have tested us to our limits and I really don't want to be disrespectful to Mo (Moeen Ali) and Adil (Rashid) but they are not as good as Ashwin and Jadeja yet. They haven't quite got the control and consistency, certainly in the first innings when there's not much happening.
"Mo has done an amazing job for us over a long period in terms of becoming England's No1 spinner. He's two wickets away from 100 so he's done amazing things and will only get better and better. Without being disrespectful, without two world-class spinners, winning in these conditions is going to be hard."
Cook also said that he struggled to counter India's left-arm spinner Ravindra Jadeja.
"I have a good overall record against left-arm spin. My stats have taken a bit of a dent in the last six weeks and yep, I found him hard work. It's a strange thing for me and credit to him. He's found a weakness there and was relentless. I wasn't good enough to cope with it."
The England captain said year 2016 turned out to be "frustrating".
"We played some good cricket at times and some times pretty average. We haven't been very good when we've been behind in games, finding a way to survive in tricky situations. But when we've been in front we've dominated. It's been a frustrating year and to lose that many times with the players we've got is disappointing," he said.