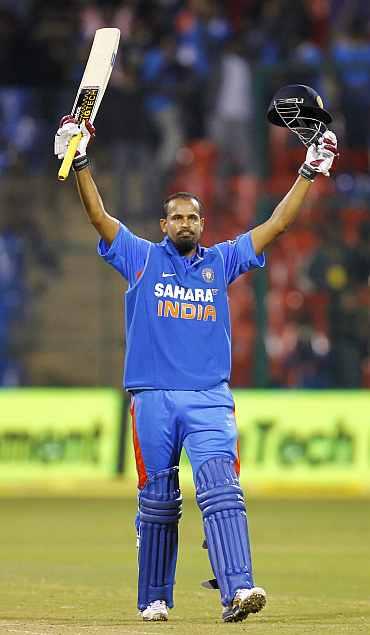 Having honed his all-round skills, swashbuckling all-rounder Yusuf Pathan is eyeing a berth in India's world T20 squad on account of his batting prowess and a good showing during the Ranji Trophy season and the Indian Premier League.

Yusuf, who last played an international T20 for India in March 2012, has been regularly performing for his IPL side Kolkata Knight Riders and making it count for Baroda in the current Ranji season.
The 33-year-old all-rounder is sure that he still has a lot to offer to Indian cricket.

"I have had a very good Ranji season this year. If you talk about T20 then I have had a very good IPL season for KKR. I am bowling well, letting down 9-10 overs in every match (Vijay Hazare), so things are moving in the right direction. Wickets are coming my way and I am also getting runs, when I am batting.

"So obviously I am eyeing a place in the upcoming tournament and that's the T20 World Cup. And I believe that if I keep performing then I will get an opportunity," Yusuf told PTI in an interview.

On his cricketing future, Yusuf said, "I have a lot of cricket left in me and a long road ahead of me. I am just focused on doing well.
"Performing to the best of my abilities and leaving the rest to the almighty. I believe if you keep performing, selectors certainly take notice.

"My aim has always been big and those will remain so till the time I play cricket. I will work harder to achieve my goals. If you do well for your team consistently, the team will always like to take your services and give you an opportunity.
"So my goal is always to play good cricket and work towards it."

Making his Team India debut in 2007, four years after his star brother Irfan Pathan wore his international cap in 2003, Yusuf made an impression right away in the inaugural World T20 final.
Opening the batting in the Mahendra Singh Dhoni-led side, Yusuf hit Pakistan's Mohammad Asif for a six in his eight-ball stay as India won a thriller by 5 runs.

The Men in Blue have come a long way after that historic moment with the Test captaincy changing hands from Mahendra Singh Dhoni to Virat Kohli.

"Kohli has done well in the few matches that he has captained so far. He is a good leader and has shown positivity in his approach. He is aggressive on the field, but that is positive aggression.
"He also helps the team and the teammates and that is a good sign for Indian cricket," he said.
The destructive batsman has also been a handy off-spinner for his side, something that works well in limited-overs cricket.
"I have been working on my bowling for quite sometime now and the results are certainly showing. Not only on my bowling, I have worked tirelessly on every aspect of my game, whether it is batting or fielding," he said.
© Copyright 2022 PTI. All rights reserved. Republication or redistribution of PTI content, including by framing or similar means, is expressly prohibited without the prior written consent.