'If you want to win the matches in T20 format, you have to bowl really well in last four to five overs.'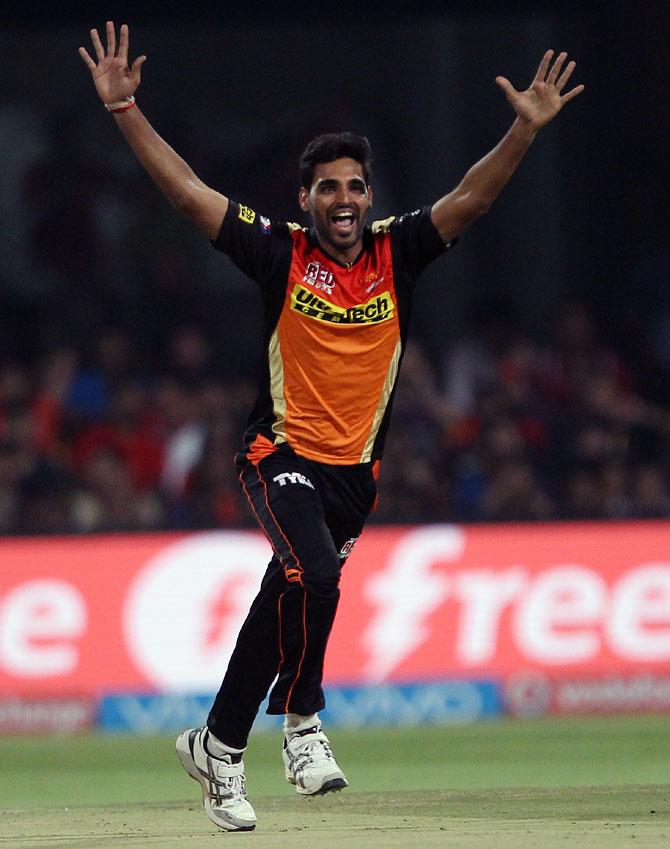 IMAGE: Sunrisers Hyderabad pacer Bhuvneshwar Kumar celebrates a wicket. Photograph: BCCI
Seamer Bhuvneshwar Kumar, who played a vital role in Sunrisers Hyderabad's Indian Premier League triumphant campaign last year, said he is determined to contribute in the upcoming 10th edition of the IPL especially in the death overs.

"This year is going to be a challenge because we have done so well last year. So, there is going to be expectations from us. If we don't deliver, it does not mean we are not good at it or that was a fluke. It's going to be an added responsibility this year to replicate the same thing," he said in Hyderabad on Tuesday.

Death bowling plays an important role in the success of a team in the T20 format, he said.

"Last year, it was good for us as a bowling unit, as a batting unit as well. If you look particularly at death areas, that was one of the positive things for us. If you want to win the matches in T20 format, you have to bowl really well in last four to five overs and that thing we did really well, including myself, Fizz (Mustafizur Rahman), (Ashish) Nehra and (Barinder) Sran," Bhuvneshwar added.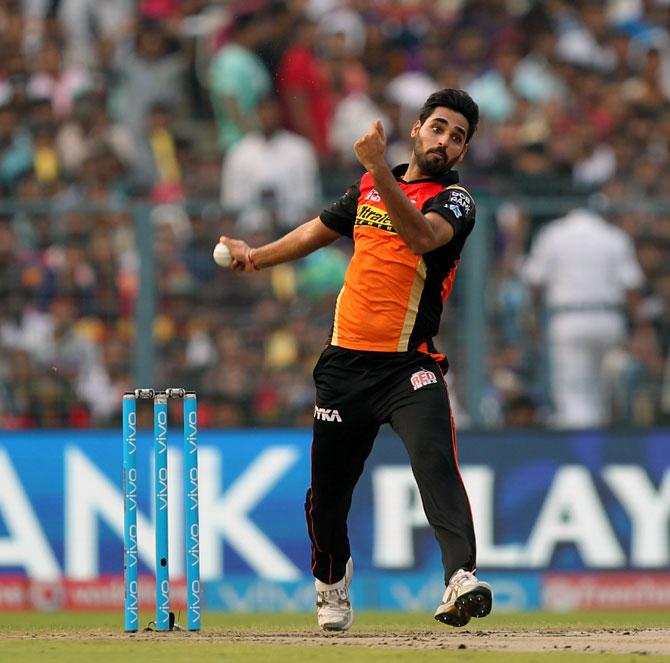 IMAGE: Sunrisers Hyderabad pacer Bhuvneshwar Kumar bowls. Photograph: BCCI
Champions Sunrisers Hyderabad take on Royal Challengers Bangalore in the tournament opener at the Rajiv Gandhi International Cricket stadium in Hyderabad on Wednesday.

The absence of RCB's main players, including captain Virat Kohli and AB de Villiers, is an advantage for SRH, but they cannot take things for granted, Bhuvneshwar stated.

"Everyone wants to win IPL. But, we know that it's not going to be easy. Last year wasn't easy. First match is against RCB. Two, three main players are not playing."

"So, we can take advantage of that. It does not mean that we can win the match. We have to play to our potential to win the match. Hoping for positive things," he said.