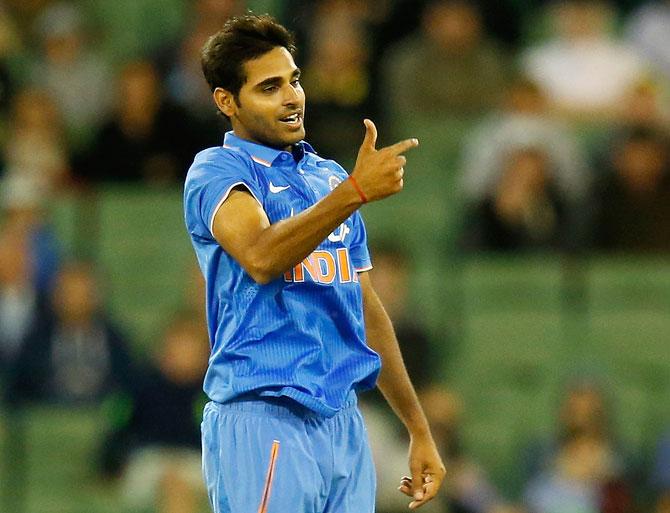 Bhuvneshwar Kumar of India celebrates taking a wicket. Photograph: Darrian Traynor/Getty Images
Javagal Srinath believes India need to identify its frontline pace attack who can take wickets upfront during their title defence at the ICC Cricket World Cup starting next month.
"It is extremely important for India to identify its front line pace attack. At this time, Bhuvneshwar Kumar is a certainty, and given that Ishant (Sharma) is fit, he will be a shoo-in if he can find his line and length. The third seamer is then a toss-up between Mohammed Shami and Umesh Yadav," said Srinath, who is currently an ICC match referee.
"Bhuvneshwar will swing the ball, which is his great strength, while the others will get seam movement. What this means is that Bhuvneshwar apart, the others have to bowl just a yard shorter and place the onus on the batsman to play the cut and the pull from that indeterminate, uncomfortable length," he added.
'The time for trying things out is almost over'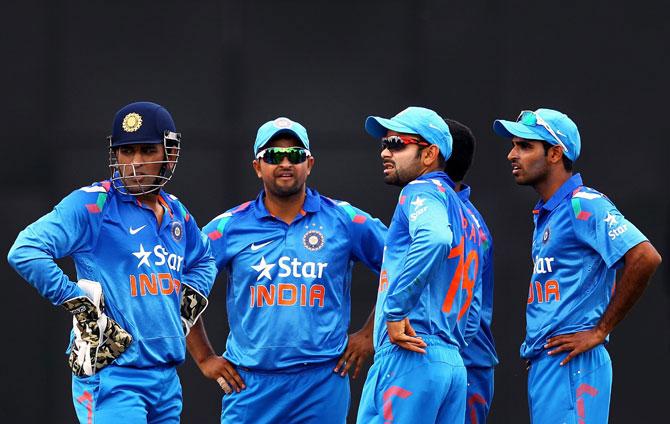 Indian players Mahendra Singh Dhoni, Suresh Raina, Virat Kohli and Bhuvneshwar Kumar wait for a decision. Photograph: Getty Images
The faster bowlers have to go for the win. By that, I mean they have to look for wickets up front, not at being economical. Having two new balls per innings is a boon," said Srinath, the only Indian fast bowler to have taken more than 300 wickets in ODIs.
Srinath, who has taken 44 wickets in the 1992, 1996, 1999 and 2003 editions of World Cup, said Indian pacers need to sort out their flaws quickly and hit top rhythm within a fortnight.
"The time for trying things out is almost over. With the ICC Cricket World Cup 2015 a little over two weeks away now, fine-tuning is the need of the hour and towards this end, the warm-up games immediately before the tournament proper need to be taken very seriously," he said in a column for the ICC.
'It is imperative to have a good first spell'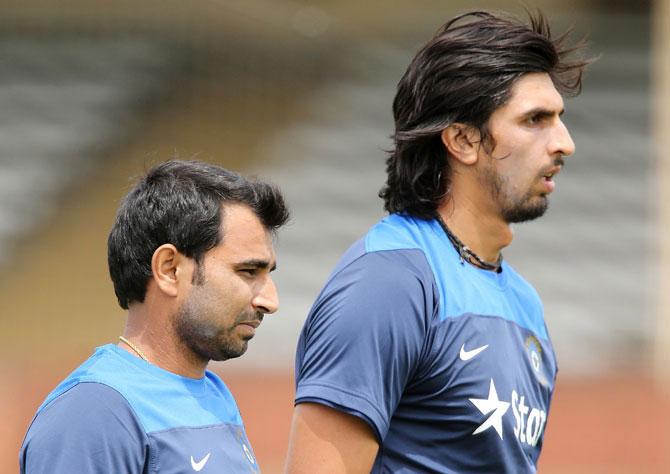 India's Mohammad Shami and Ishant Sharma during a nets session. Photograph: Getty Images
When it comes to the faster bowlers, especially, it is essential that by the time India is done with its second practice game, against Afghanistan on February 10, it has hit top rhythm. Any flaws or faults, issues of confidence and form and injuries – all those things have to be sorted out in the
next 15 days," Srinath said.
Stressing on the importance of bowling a good opening spell, Srinath said: "It is imperative to have a good first spell. The confidence that you get from a good first spell will then spill over to the second spell, but if you mess up your first spell, then things will only become tougher."
Srinath said bowlers have to realise that their batsmen are not going to bail them out always and so a player like Ishant have greater responsibility.
'If you don't strike early, death bowling can become extremely tough'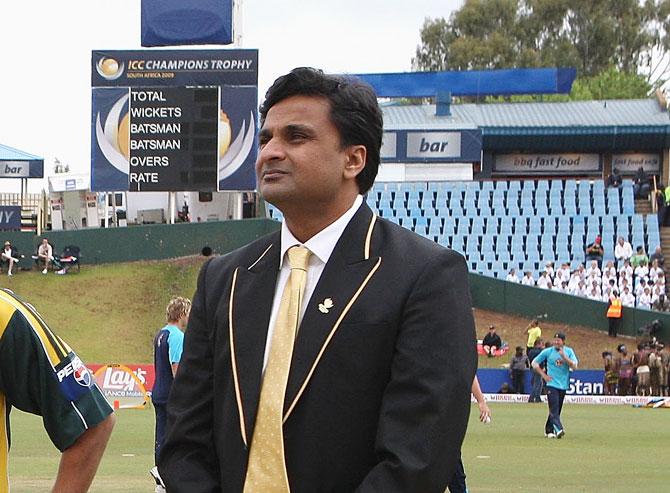 Match referee Javagal Srinath. Photograph: Hamish Blair/Getty Images
Talking about death bowling, Srinath said: "... there is no prescribed formula. It all depends on the way you have bowled early on. I personally hold the opinion that the best death bowling is to bowl at tail-enders.
"By that, I mean you pick up early wickets and ensure that you have done your job upfront. If you don't strike early, death bowling can become extremely tough. With the introduction of two new balls, the onus is more on getting early wickets.
"Otherwise, and in the absence of reverse swing, the ball is in pretty good condition to travel long distances. Ideally, you will try to mix and match, bowl slower balls, yorkers and bouncers at the death, but if the opposition has wickets in hand, then good luck," he said.