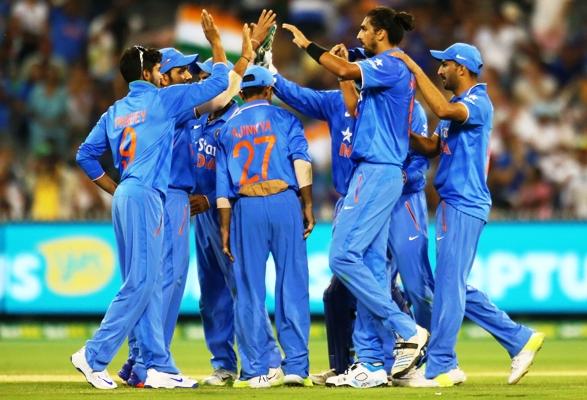 IMAGE: Indian players celebrate the fall of an Australian wicket. Photograph: Scott Barbour/Getty Images
India's limited overs captain Mahendra Sigh Dhoni has said that inconsistent performances of the bowlers will be scrutinized thoroughly in the future and new players will be given opportunities to prove their worth.
In the same breathe, Dhoni albeit in a roundabout manner also made it clear that likes of Ishant Sharma and Umesh Yadav might find it difficult to break into the limited overs side considering their inconsistent performances over the past few years.
"We came to Australia with a slightly inexperienced bowling attack but at the same time we wanted to try different people," explained Dhoni.
"Because we had been trying the same few individuals and we have been getting the same results," continued the captain, adding, "So it was high time that we gave chances to a few individuals in the domestic circuit and see what really they have to offer.
"As far as only talent is concerned, there were a few people who looked good but they will have to improve further."