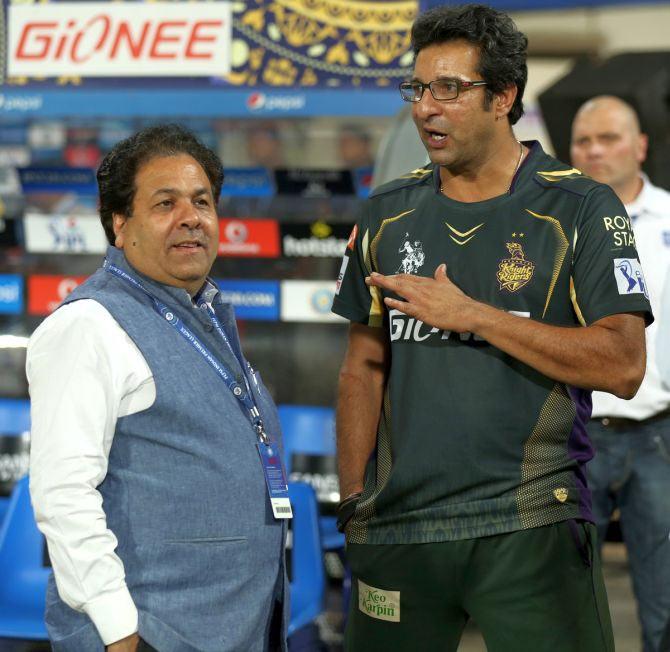 IMAGE: Rajeev Shukla (left) and former Pakistan pacer Wasim Akram, Kolkata Knight Riders' bowling coach, during an IPL game. Photograph: BCCI
Indian Premier League chairman Rajeev Shukla says the Board of Control for Cricket in India is open to considering any request from its Pakistan counterpart seeking permission for its players' participation in the Pakistan Super League.
"So far we have not got any such query from the PCB, but if they do contact us on this topic we will look into it," Shukla, a senior BCCI functionary, said.
PSL head Najam Sethi has indicated that he is interested in having some Indian players in the T20 league, scheduled to start on February 4 in Dubai and Sharjah.
So far the PCB is yet to reveal details of the league and is mum on the sale of broadcasting and title sponsor rights besides the five franchises.
The BCCI, as a policy, doesn't allow its players to take part in any foreign Twenty20 league, but Shukla said if the PCB sent them a request it would be looked into.
The two boards apparently have reached a consensus on playing a short limited-overs' series in Sri Lanka next month though details are yet to be confirmed.
"We understand the predicament of Pakistan cricket, but at same time I think the PCB needs to realise that they have to draw a line somewhere when it comes to playing its home matches in the UAE," Shukla said.
He again advised the PCB to work on creating a safe venue in their country to convince other Test-playing nations that it is safe to play in Pakistan.
"We would be willing to play in Pakistan at such a safe venue if the appropriate security assurances were given to us and the International Cricket Council also got gave security approval," he added.