BCCI acting secretary Amitabh Chaudhary's proposal to give General Manager (Administration) Ratnakar Shetty extension was also turned down by the Supreme Court-appointed COA.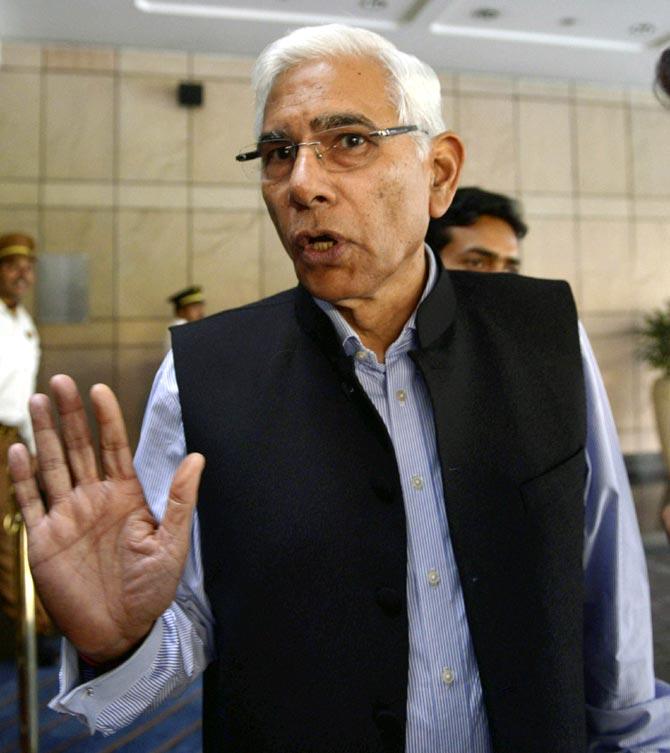 IMAGE: COA chief Vinod Rai. Photograph: PTI
The turf war in the Board of Control for Cricket in India got uglier as Committee of Administrators, headed by Vinod Rai, on Saturday cleared new Anti-Corruption Unit (ACU) chief Ajit Singh's appointment despite acting secretary Amitabh Chaudhary refusing to sign the contract letter.

Chaudhary's proposal to give General Manager (Administration) Prof Ratnakar Shetty extension was also turned down by the Supreme Court-appointed two-member COA, comprising of Rai and Diana Edulji.

It is learnt that COA waited for acting secretary Chaudhary to sign Singh's appointment letter but he refused to sign. With former Delhi top cop Neeraj Kumar's tenure ending on March 31, COA were forced to clear the appointment of Singh for the new financial year.
Kumar will, however, assist him for two months during IPL for smooth transition.

The COA in a directive issued for the office-bearers on March 15, had categorically stated that any appointments not cleared by the secretary within five working days, will then be cleared by the Rai-led committee.

When secretary Chaudhary was contacted, he confirmed that the appointment of Singh has indeed been cleared without his consent.

"I have seen the media release. I am filing a reply to CoA," Chaudhary said.

The COA along with CEO Rahul Johri has been at loggerheads with the three principal office-bearers: acting president CK Khanna, acting secretary Chaudhary and treasurer Aniruddh Chaudhry.

"The secretary was sitting on the appointment letter for days despite CoA's diktat. They had no option but to clear the appointment," a BCCI official close to COA said.

In fact, Chaudhary was peeved because Professor Shetty's extension was shot down.

"Today is the last day of the month. The recommendation for extending Prof Shetty's tenure by three months, in keeping with BCCI's requirements as well as the thoughts recorded in the COA meeting dated 12 December 2017, were made in the morning of March 28. However, no response has been received either from the COA or the CEO," Chaudhary wrote in a letter to COA, a copy of which is in possession of PTI.

"This is an unforseen situation where the three elected office bearers have unanimously supported a cause and the same has been blocked. In other words, the General Body itself has been blocked. The Constitution of BCCI in force can aptly deal with this situation," he further wrote.

"Amitabh was not wrong in seeking Professor Shetty's extension as his experience in dealing with administrative affairs of women's cricket and anti-doping measures were important. Since Indian women will be playing continuously for the next few months, Professor Shetty was required. It's not a correct thing to do," an angry office-bearer from the anti-COA faction said.