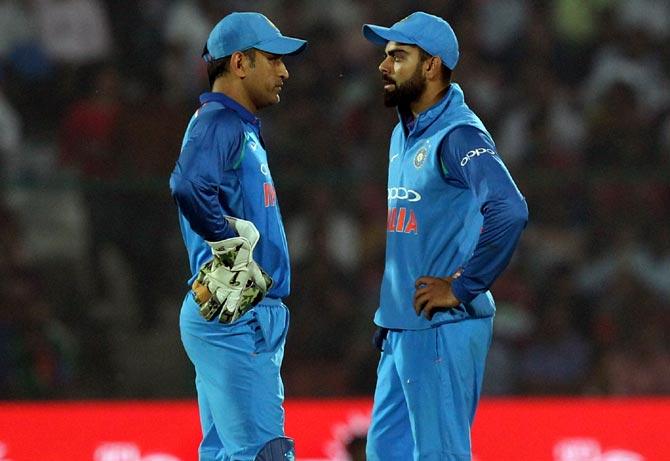 IMAGE: 'Getting a Virat Kohli or Mahendra Singh Dhoni to sign the 'whereabouts clause' is one of the main reasons behind NADA wanting the BCCI to come under its wing.' Photograph: BCCI
The Board of Control for Cricket India's Committee of Administrators will meet in Mumbai on November 3 to chalk out a plan to deal with mounting pressure from the National Anti-Doping Agency (NADA), which wants Indian cricketers under its ambit.
However, it is unlikely that Indian cricket's governing body will budge from its current stand.
The top brass of the country's cricket board believes that trying to get a Virat Kohli or Mahendra Singh Dhoni sign the 'whereabouts clause' is one of the main reasons behind NADA wanting the BCCI to come under its wing.
'Whereabouts' is information provided by a limited number of top elite athletes on their location to the International Sport Federation (ISF), or National Anti-Doping Organization (NADA in this case, which includes them in their respective registered testing pool as part of these elite athletes' anti-doping responsibilities.
The BCCI had hired Sweden's International Drug Testing Management (IDTM) for testing and is likely to continue with their services.
There are reports that the NADA is likely to send its Doping Control Officers (DCO) for domestic tournaments, and if BCCI does not co-operate it will take the legal route.
However, senior board officials wonder whether that would be as easy as top government officials are making it out to be.
India's cricketers, always in the spotlight, have time and again protested that signing the 'whereabouts' clause would lead to infringement of privacy.
"BCCI is not a signatory to NADA code and therefore under no compulsion to release our cricketers for the dope test. We are under ICC, which is WADA compliant. At ICC events our cricketers are tested by WADA, but since we are not a National Sports Federation (NSF), we are under no obligation to become a NADA signatory," a senior BCCI official, privy to the development said on Sunday.
The official added: "Testimony to our transparent process is the latest WADA report where 153 of our cricketers were tested 'In Competition' and 'Out of Competition' and there was only one dope positive result."
Asked about the legal threat, the official sarcastically said: "BCCI, in any case, is fighting so many legal battles! But, seriously, NADA officials think that they will just land up at IPL or Ranji Trophy and force a BCCI registered cricketer to undergo dope test. We didn't know it was this simple."