The BCCI on Sunday adjourned its "Special General Meeting", which was attended by former President N Srinivasan, after the Committee of Administrators (COA) sought Supreme Court directives on some issues.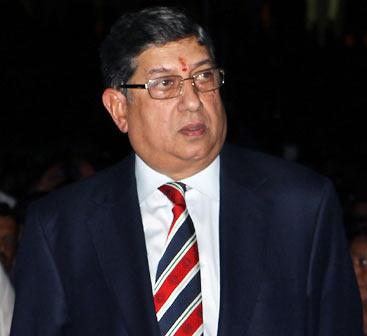 The decision to adjourn the meeting was taken after it was learnt that COA had sought Supreme Court directions on who all are eligible to be BCCI's representative in ICC meetings.
The SC hearing is on Monday and the Board has again called a meeting on Wednesday.
"The meeting was adjourned as SC is hearing the matter on Monday.
Since legal implications are involved, Amitabh Chaudhary, the joint Secretary announced adjournment," former SaurashtraCA head Niranjan Shah told reporters.
The meeting was attended by most of the veteran members rendered ineligible by SC order based on Lodha reforms.
The likes of Srinivasan, Niranjan Shah, TC Matthew, Ranjib Biswal and G Ganga Raju -- all above 70 years of age -- attended the meeting in clear violation of norms.
From Himachal it was Arun Thakur, former President Anurag Thakur's younger brother, in attendance. Railways and Services also had their representatives in the meeting.
The only notable absentee was Delhi and District Cricket Association as per Justice Vikramjit Sen's direction.
Acting president CK Khanna chaired the meeting and also signed the minutes of meeting.
When a state unit member was asked whether anyone objected to Srinivasan attending the meeting, he told PTI: "No one had any objection. The only problem was legitimacy of the meeting with SC hearing on Monday."
"Some felt that one should have waited before calling the next meeting on Wednesday. But majority in the meeting were of the opinion that let's call it on Wednesday," one member said after adjournment.
The 70-plus office-bearers are claiming that Frequently Asked Questions to the Lodha Committee, which formed the basis of their age-related disqualification, are not verdict and hence they are still eligible to attend the meeting.
Image: Former BCCI president N Srinivasan
Photograph: BCCI