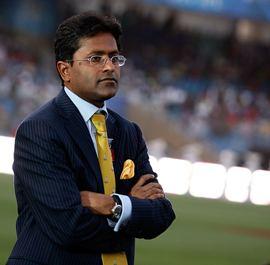 Days before the announcement of the result of Rajasthan Cricket Association (RCA) elections held last month, the BCCI on Thursday moved the Supreme Court challenging participation of Lalit Modi in the poll, a move aimed at restraining him from holding the president's post if he wins.

The BCCI challenged the Rajasthan Sports Act 2005 allowing the former Indian Premier League commissioner to contest the RCA presidential elections on December 19 despite being banned for life by the Board.

The apex court had on November 20 made its retired judge Justice N M Kasliwal as a principal observer to oversee the elections. It had said that "individual members shall not cast their votes and the result of the election shall be subject to the final outcome of the appeal which is pending before this court".

The case is expected to come for hearing on January 6.

The court had passed the order on a petition filed by former BCCI treasurer and ex-Rajasthan Cricket Association secretary Kishore Rungta seeking the court's direction for appointment of a retired judge to conduct RCA elections.

The Board had on December 28 decided to approach the Supreme Court case challenging the RCA polls.

The decision to intervene was taken at an emergent working committee meeting of the Board to discuss the possible implications of Modi's re-entry
into the RCA.
"The Working Committee meeting of the BCCI was held today to decide the course of action to be followed to enforce the decision of the Members to expel Mr Lalit Modi. It was noted by the members that Lalit Modi had contested for the post of President in the elections of Rajasthan Cricket Association notwithstanding his expulsion by BCCI," BCCI Secretary Sanjay
Patel had said.
"The members decided that the BCCI must intervene in the SLP filed by Mr. Rungta in the Supreme Court challenging the Rajasthan Sports Act and get clarified the position of BCCI to enable the enforcement of its resolution passed on 25th September 2013 expelling Mr. Lalit Modi." it said.
Modi was allowed to fight for the post of RCA president in the December 19 elections held under the supervision of a Supreme Court-appointed observer.
Modi was slapped with a life ban on September 25 last year by the BCCI after its disciplinary committee found him guilty on eight charges of "indiscipline and misconduct".
The BCCI disciplinary committee, comprising Arun Jaitley, and Jyotiraditya Scindia, had submitted a 134-page report in July, 2013, in which it had found Modi guilty of financial irregularities, indiscipline and "actions detrimental to the interest of the BCCI."