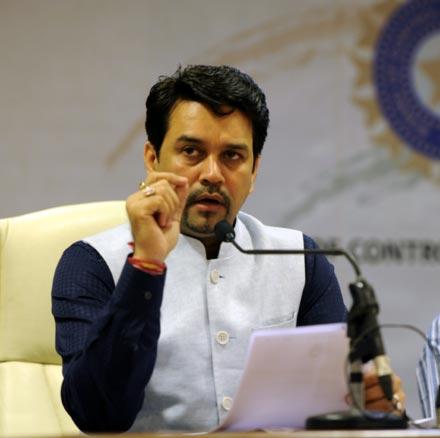 BCCI president Anurag Thakur made it clear that while he is ready to accept DRS without the usage of 'Hawk Eye', the world's richest cricket board is not keen on four-day Tests and a two-tier system.
"If you don't have a foolproof format in front of you, where is it going to help the game of cricket? I think we should not even [get into] into that," Thakur told ESPNcricinfo when asked about a possible tweak in the longest format.
The BCCI president said that he wants to dig deep into the issue of bringing back spectators rather than curtailing the duration of the game.
"We should analyse the shortcomings [of Test cricket]," he said. "Is it the paucity of time? The issue is why aren't you getting enough crowd for a Test match? That is the basic issue."
However on DRS issue, the BCCI president made it clear that he is not averse to conditional DRS.
"You can have some and leave [Hawk-Eye]. If that comes as an option, we can look into that."
When asked specifically if the BCCI would accept the use of visual aids such as Hot Spot and real-time Snicko in addition to the standard camera angles, Thakur nodded in the affirmative. He reiterated the BCCI's longstanding opposition to Hawk-Eye, though, because it is not "100 percent foolproof".
IMAGE: Newly elected BCCI president Anurag Thakur.
Photograph: BCCI.
© Copyright 2021 PTI. All rights reserved. Republication or redistribution of PTI content, including by framing or similar means, is expressly prohibited without the prior written consent.