Shami has been given a Grade 'B' annual contract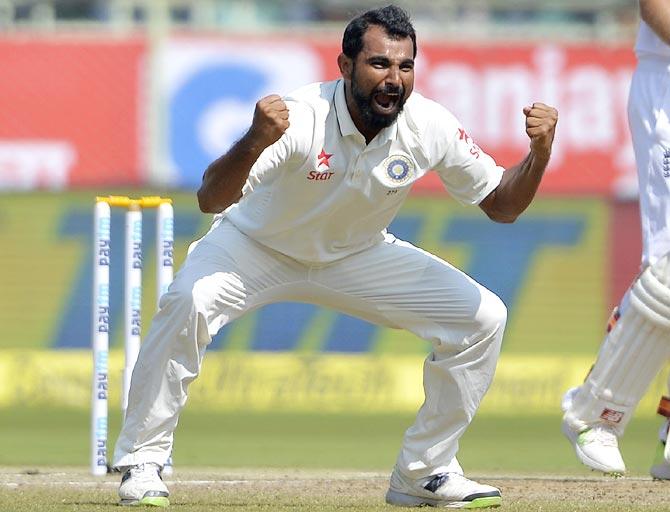 IMAGE: Big relief for Mohammed Shami. Photograph: BCCI
The Board of Control for Cricket in India (BCCI), on Thursday, cleared India speedster Mohammed Shami's central contract after its Anti-Corruption Unit (ACU) exonerated him of corruption charges levelled by his wife Hasin Jahan.
Shami has been given a Grade 'B' annual contract, which will make him richer by Rs 3 crore. He will also be free to play in the Indian Premier League for his franchise the Delhi Daredevils, starting April 7.
The BCCI had decided to withhold Shami's contract after Jahan made a series of allegations, including adultery and domestic violence, and lodged a police complaint against him. Shami has denied all the allegations stating that it's a move to ruin his career.
The Committee of Administrators (CoA) specifically asked its ACU chief Neeraj Kumar to investigate the charges that the bowler accepted money from one Mohammed Bhai through a Pakistani woman named Alishba.
"The Hon'ble Supreme Court of India appointed Committee of Administrators (CoA) had requested Mr Neeraj Kumar, former Police Commissioner of Delhiand Head of BCCI Anti-Corruption Unit, to investigate the allegations against Mohd. Shami in so far as they pertain to the provisions of the BCCI Anti-Corruption Code," COA stated in a media release.
"Mr Neeraj Kumar has submitted his confidential report to the CoA. Based on the conclusions in the said report, the CoA is of the view that no further actions/proceedings under the BCCI anti-corruption code are warranted in the matter.
"For this reason, the BCCI shall proceed with offering a Grade 'B' annual retainership contract to Mohd. Shami," the release further stated.
The BCCI top brass had always maintained that they will not sit in judgement about Shami's personal life. The charges of adultery and domestic violence are being investigated by the Kolkata Police and that is out of the Board's purview.
It can be safely concluded that Kumar's report nowhere indicts Shami of any corrupt practices under the prevailing ACU Code. Jahan's claims that the cricketer accepted money from Alishba and indulged in corrupt activity could not be proved.
Since the terms of reference for Kumar's investigations was limited to checking the antecedents of Alishba and Mohammed bhai from UK, Shami has now been exonerated of the charges.
BCCI acting president CK Khanna told PTI :"This is a very good news for Shami and for Indian cricket. The charges of corruption against him looked too far-fetched. He has been a committed player for India.
The BCCI is happy that he has come clean after a thorough investigation by its Anti-Corruption Unit (ACU). It is only fair that he can now earn his livelihood as a professional cricketer and should be back in the field for the upcoming IPL."
IPL chairman Rajeev Shukla had already clarified that Shami would be allowed to play the moment he gets a clean-chit from the ACU.
Delhi Daredevils CEO Hemant Dua was also happy with the development as Shami is an integral part of their bowling unit.
"I have just received the confirmation from the BCCI that Shami has been absolved of all charges related to corruption allegations. It's a welcome news for the franchise and we are happy to have him back. We expect him to join the camp from the very first day," CEO Dua said.
Asked how much of a relief it is for the franchise as corruption charges can also adversely affect the brand, Dua said: "When it came to corruption charges, we never had an iota of doubt that Shami is innocent. He is an honest cricketer and would have never done any such thing. We even spoke to Shami during this period. But we also have to follow the instructions of BCCI. It was only fair that the matter was investigated and he has come out clean."
Some of the senior BCCI officials felt that the player need not have gone through this ordeal based on unsubstantiated charges.
"The CoA rather than feeling happy and chest-thumping that they have conducted investigations should feel embarrassed that based on mere allegations, he was made to look like a traitor, however short the span may be. The CoA has been left with eggs on their face," a senior official from anti-CoA faction said.