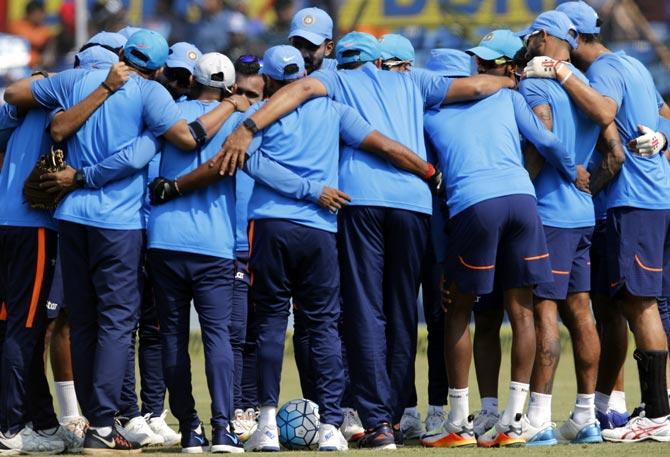 The Board of Control for Cricket in India on Tuesday said the tri-nation T20 series in Sri Lanka, also involving the Indian team, will continue despite the country plunging into a state of emergency following communal violence.
The BCCI confirmed that the "situation is perfectly normal in Colombo" where the tournament is taking place, hours before India are scheduled to take on hosts Sri Lanka in the opening fixture of Nidahas Trophy at the Premadasa Stadium.

"There have been reports of curfew and an emergency being called in Sri Lanka. The situation in picture is in Kandy and not Colombo. This is to notify everyone that after talking to concerned security personnel (Ministerial security division - in charge of team security), we have understood that the situation is completely normal in Colombo. If at all there is any update on the same we shall notify," BCCI's media team said in a statement from Colombo.
"The Sri Lankan government has informed us that an extra layer of security is being added around the Indian team hotel and we have been assured that there is nothing to worry," senior Congress politician and BCCI official Rajiv Shukla said.

Sri Lanka has declared a state of emergency for 10 days to rein in the spread of communal violence, a day after Buddhists and Muslims clashed in the Indian Ocean island's central district of Kandy.

BCCI's acting president C K Khanna also confirmed that the tri-series will go ahead as per schedule. He said that the Indian cricketers will be provided with foolproof security.

"The Indian cricket board is in constant touch with the Sri Lankan government authorities. The security is foolproof and we have been assured that there is no threat to the tournament. So the Indian team, as of now, will be playing the tournament," he said.

The government decision to declare emergency came after a Buddhist man was killed and a mob set fire to a Muslim-owned shop.
IMAGE: The Indian team during a training session.
Photograph: BCCI