'We have received complaints that Railways employees' kids are playing Under-19 Nationals. This was not the idea.'
'An institutional unit taking part in any BCCI tournament (age-group to senior level tournament) can only select employees.'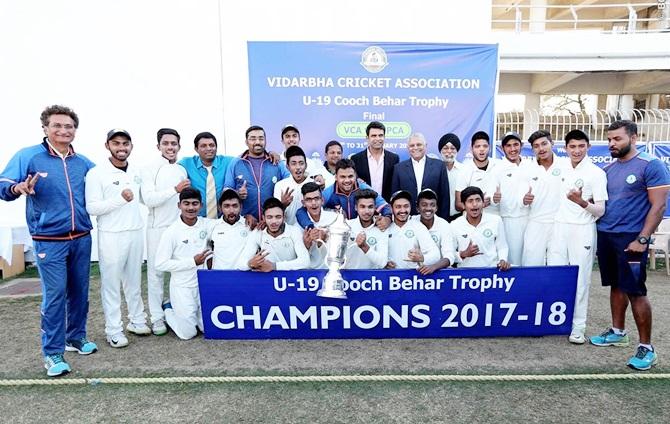 The Board of Control for Cricket in India is all set to issue a diktat to Indian Railways, stating that only permanent employees will be allowed to play in the Cooch Behar Trophy, the board's Under-19 tournament.
There is a distinct possibility that Indian sport's biggest recruiters will have to disband their Under-19 team if the BCCI technical committee's recommendation is ratified by the general body.
During a recent technical committee meeting in Kolkata, its members found that Railways is the only BCCI unit whose junior team (U-19) comprises children of employees.
"The technical committee has recommended that from now on, any institutional unit taking part in any BCCI tournament (age-group to senior level tournament) can only select employees," a senior BCCI official and technical committee member said on Friday.
"We have received complaints that Railways employees' kids are playing Under-19 Nationals. This was not the idea," the senior official said.
When Railways Sports Promotion Board (RSPB) secretary Rekha Yadav was contacted, she explained the prevailing problem.
"Yes, at the Under-19 level we have children of employees playing, but there is a genuine reason. We are a government organisation and we can't pick outsiders like state teams do. But even those kids are selected after trials," Yadav said.
She expressed helplessness that it's not possible to recruit 20 Under-19 cricketers every year.
First things first. We are ready to recruit talented Under-19s but we are not getting enough players. Secondly, it is not possible to recruit 15 to 20 age group cricketers every year. We have a recruitment policy that we adhere to. We can't just recruit cricketers and ignore other Olympic sports," she explained.
"The second reason is that if there is some really good talent, they would prefer playing for teams like Mumbai, Delhi or Karnataka. Even the talented kids of our employees want to play for open states," she added.
When the BCCI official was apprised of Railways' problem, he said: "We are not for once saying that employees' kids can't be talented. We are merely saying that if they are talented, recruit all of them. We only want Railways to pick employees for all BCCI events."
The Railways mostly recruits at the Under-23 (CK Nayudu Trophy) and Ranji Trophy level.
However, there have been a few Under-19 recruitments by Railways who did well at the senior level and even played for India.
Former left-arm spinner Murali Kartik and current Chennai Super Kings leg spinner Karn Sharma started their careers as Railways Colts' players and went onto play Test cricket for India.