'Out of 29 states, 11 were going without a single penny and zero funds.'
'You (BCCI) are practically corrupting the person by not demanding explanation in spending of huge money.'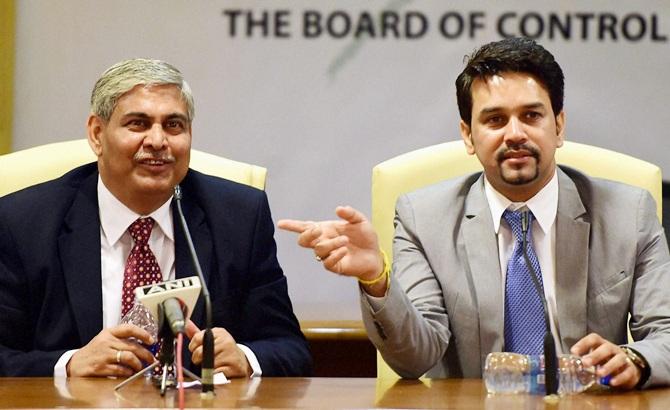 IMAGE: BCCI president Shashank Manohar, left, and secretary Anurag Thakur address the media. Photograph: PTI.
The Supreme Court came down heavily on the cash-rich Board of Control for Cricket in India on Tuesday, saying it is running like a "mutually beneficial society" and "practically corrupting" its members by not seeking any explanation on how crores of rupees allotted to them are being spent.
While scrutinising the BCCI's fund allocation and expenses, the apex court also pulled it up for not giving funds to neglected states for promotion of cricket and said it has done nothing to encourage the game.
It was also critical of the discrimination meted out to different states, saying the states begged for money from the board which follows a "no questions asked" policy as a method to buy votes in a certain manner.
Lauding the work done by the Justice R M Lodha-led committee for bringing out massive structural change in the functioning of BCCI, the bench said "this is not an ordinary panel. It is a committee on which we have complete faith. It is committee of judges and its findings have to be relied upon. We cannot say that the findings are perverse."
"They have come after consultations with the experts and a wide spectrum of people and the recommendations have been given by a former CJI who have experience and they have arrived at some conclusions," a bench comprising Justices T S Thakur and F M I Khalifulla said.
The BCCI had moved the apex court, submitting that it has accepted some of the recommendations of the Lodha panel while there were difficulties in implementing others as these would have a wide-ranging effect on its functioning.
While analysing the table of fund allocation and expenditure provided by the BCCI for the last five years, the bench said, "Out of 29 states, 11 were going without a single penny and zero funds. You have given them nothing. This doesn't reflect a good future.
"The impression we get from the Lodha Committee is that you are releasing huge amounts to some states and you leave it to the states on the ways to spend. You are practically corrupting the person by not demanding explanation in spending of huge money," adding that "you (BCCI) are running a mutually beneficial society".
During the hearing, the court wanted to know whether any case of misappropriation and FIR was lodged by the BCCI.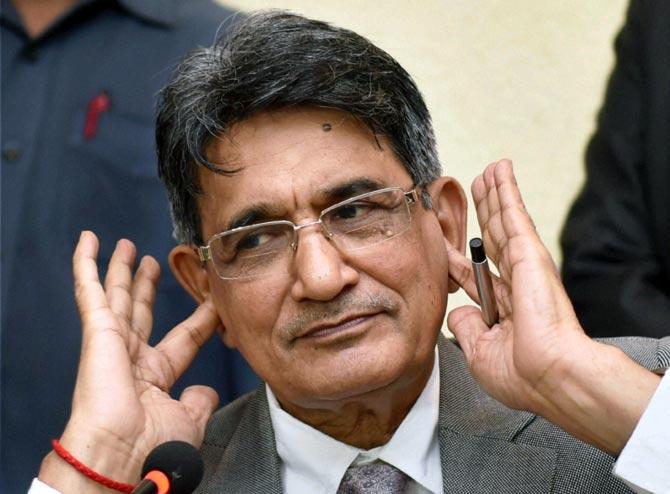 IMAGE: Justice Rajendra Mal Lodha. Photograph: PTI
Senior advocate K K Venugopal, appearing for the BCCI, said an FIR was filed pertaining to the funds allocation to Jammu and Kashmir cricket board and that Assam has not filed the statement of account.
The bench also said, "Rs 570 crores is distributed every year and next time it will be Rs 1000 crores. There must be a system to check embezzlement, siphoning. You cannot allow the siphoning and misappropriation of funds."
A present, there is complete lack of transparency in fund allocation to the states, it added.
"You function like show me the face, I will make the payment; there should be some justice in providing funds."
The bench, after perusing the affidavit filed by the BCCI detailing the records of payments made to states including Gujarat, Goa and Tripura, said the amount was several folds higher than 11 other states likes Bihar and Chhattisgarh, which go around with a "begging bowl".
"These eleven go begging for assistance. These 11 states are not paid a single penny. Why would Gujarat get over Rs 60 crore in its capacity as a full member with voting rights, while Bihar did not," the bench said, adding "why Goa with hardly a population of over 10 lakh was getting Rs 57 crore from BCCI, while Bihar is not."
Venugopal said that Bihar was an associate member and had refused to submit their audited account statement. Funds are released by the board to members depending on their cricketing activity.
The bench then asked why does Railway Sports Promotion Board, a full member, does not get anything. To this, the BCCI said the Railway Sports Promotion Board does not have an international stadium.
"Then why Tripura with around 25 lakh population gets Rs 60 crore even before an international stadium has been constructed," the bench then asked BCCI.
Senior advocate Ashok Desai, appearing for Punjab Cricket Association, objected to the Lodha panel recommendation on age limit and said that implementation of the report would fundamentally change their rules.
"Justice Lodha Committee does not change any rules. It does not say that there should be seven balls in an over. It only recommends change in the persons managing cricket administration," the bench said.
The hearing remained inconclusive and will continue on April 8.
Earlier, after BCCI and several cricket associations resisted implementation of Lodha panel recommendations, the court on February 4 had given a stern message to BCCI asking it to "fall in line" with the recommendations of the committee.
It had on March 3, pulled up the BCCI for its reluctance to comply with the recommendations of the Lodha panel, including the one to keep ministers away from cricket administration, observing that politicians wanted to hold such posts for "power and clout".