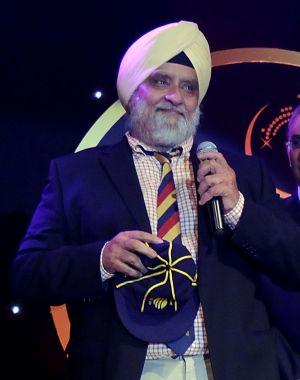 Sneh Prakash Bansal and his panel, as expected, cruised to a landslide victory over former India skipper Bishan Singh Bedi and his team in the Delhi & Districts Cricket Association polls on Tuesday.
Bansal defeated the spin wizard in the contest for the DDCA president's post by a whopping 70 percent margin. Bedi faction was contesting for 10 out of the 16 posts.
While Bansal got 3433 votes, Bedi could only manage 285 votes while none of the other international cricketers could manage even 200 votes in their respective categories.
Surinder Khanna lost general secretary's election to Anil Khanna by 2345 votes. Anil Khanna got 3514 votes to former India glovesman's 169 votes.
Other contestant Madan Lal was the biggest loser as he was thrashed by incumbent Sunil Dev by a whopping margin of 3258 votes for the Sports Secretary's post. While Dev polled 3430 votes, former India all-rounder could only manage 172 votes.
Two other international cricketers Gursharan Singh and Abbas Ali Baig fought for a place in executive committee but got a meagre 163 and 169 votes.
Announcing the victory, DDCA vice-president Chetan Chauhan said the members showed faith in the Bansal panel.
"It's safe to say that we have won the elections. Out of 4300 votes, we had already submitted 3400 proxy votes. So it has been a big victory for us. The members have shown their faith in us and we will have to continue doing the good work," Chauhan said.
While the Bedi faction had raised objections over the proxy voting system, Chauhan countered the claim saying the system has been part and parcel of the election process for a long time.
It was interesting to note that only 167 members did actually come and vote; the rest were proxy votes.
"See, it is like this… that this system (proxy) has been continuing since the time of the formation of the association and it comes under the Companies Act. It's a company registered under Section 25 of the Companies Act.
"So there is a provision for proxy, but, at the same time, there is also provision for people to come and vote in person," he added.
Chauhan felt the proxy system is ideal and best-suited for elections in the association.
"We have around 4,300 members and there is a provision there to come and vote. I remember, in 1982-83, around 1000 people came in and voted," he said.
Elected office-bearers:
President: Sneh Prakash Bansal
Vice-president: C K Khanna, Chetan Chauhan, Ganga Prasad Gupta
General secretary: Anil Khanna
Sports secretary: Sunil Dev
Club secretary: Sunil Kumar Jain
Treasurer: Ravinder Manchanda.
Executive Committee: Ajay Sharma, Ashok Sharma, Brij Mohan Gupta, Harsh Kumar Sharma, Siddharth Singh, Surya Prakash Singh, Vikas Katyal and Vishwanath Aggarwal.
Image: Bishan Singh Bedi
Photograph: Pal Pillai/Getty Images