'The answer we got against the RTI is that they have no evidence against me, and I have nothing to do with betting.'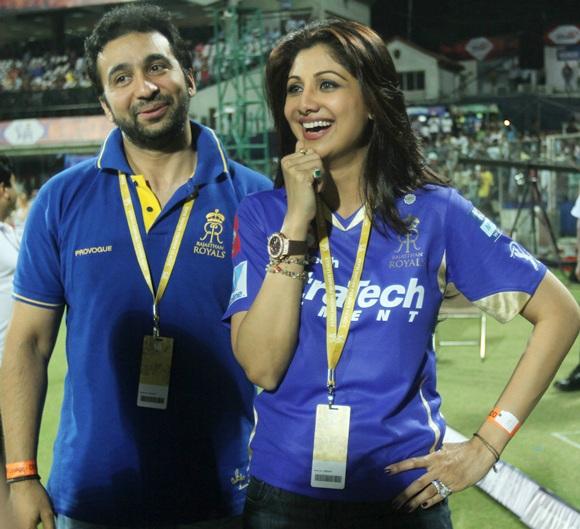 IMAGE: Raj Kundra with wife Shilpa Shetty during an IPL match. Photograph: BCCI
Banned for life from cricket activities, former Rajasthan Royals co-owner Raj Kundra on Friday said he has filed a petition in the Supreme Court after Delhi Police gave him a clean chit in the Indian Premier League betting scandal.

Kundra had filed an application under Right To Information at the Delhi Police who in their reply said there is 'no evidence' of betting charges against him.
"We have filed an application under RTI to Delhi police seeking whether there's any evidence against me on the alleged betting," Kundra said on the sidelines of an Indian Chambers of Commerce programme.

"The answer we got against the RTI is that they have no evidence against me, and I have nothing to do with betting. The RTI is available to all of you. Even you can file an RTI and see it."

Kundra and former BCCI chief Narayanswami Srinivasan's son-in-law Gurunath Meiyappan were suspended from any type of cricket matches for life after they were found guilty of betting during the sixth edition of the IPL in 2013.

The Supreme Court-appointed committee in its 2015 verdict had also suspended former champions Chennai Super Kings and Rajasthan Royals for two years.

The two franchises will be back this season after serving two years suspensions and Kundra hopes his ban is also overturned and he is back to resume duties at Rajasthan Royals.

"I hope so (the ban is overturned). We have submitted it and I don't know the date of a hearing. It's in the courts. We all have trust in the judicial systems. Fingers crossed.

"In our review (petition) we have asked please see what the Delhi Police has said and the basis on which I have been banned for life. Please study the new evidence, study them and tell us if I committed any crime. Then I will accept it. If Delhi Police is clearly saying 'I have done nothing wrong, why penalise me', why I am being victimised."

On the ban, Kundra said: "It was horrible. When you get blamed for something you haven't done, it brings collateral damage. I was the easiest prey as I was the poorest of the eight team owners. They had evidence against everyone else, they didn't have evidence against me.

"It was very painful. You must have seen how passionate I have been... You cannot fake those emotions. I don't want to cry over split milk," he said.

Kundra called for betting to be legalised in India.

"In this country, it's about time that they legalise betting because the amount of money that is being spent under the table," he said.

"I guarantee you 80 percent of this country will stop watching cricket if they did not bet on a match. Every single person bets I am sorry to say.

"It would be foolish to say that betting does not happen. There is a list of 4,000 to 5,000 crore industry that happens on every match and it's about time we legalise it and start taxing it, making money where we should."