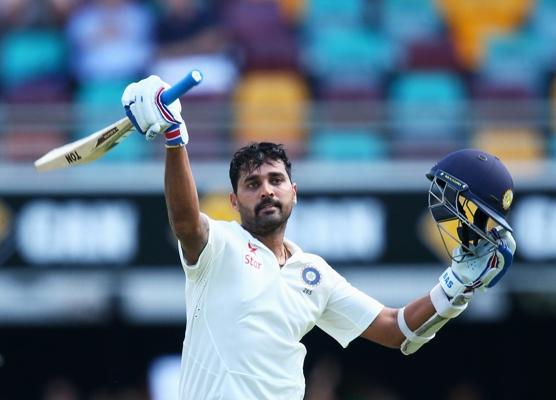 India's Murali Vijay celebrates scoring a century. Photograph: Cameron Spencer/Getty Images
India may have slipped to fourth in the Test rankings following the drawn Test in Fatullah, but its openers, Murali Vijay and Shikhar Dhawan, achieved career-best rankings.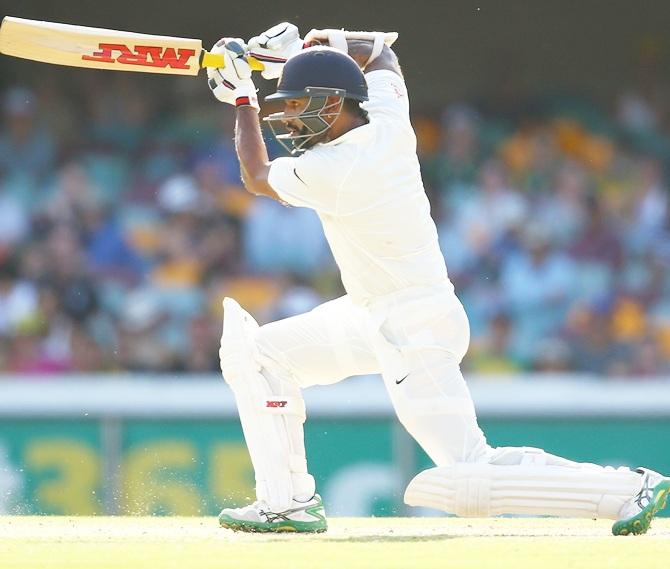 India's Shikhar Dhawan bats. Photographer: Cameron Spencer/Getty Images
Vijay, who scored 150 in the first innings of the rain-hit one-off Test against Bangladesh, moved up three places to 20 in the rankings for batsmen, while Dhawan, who scored 173 in the same match, vaulted 15 places, to 45.
Ajinkya Rahane, who scored 98 in the Test, is the other notable mover. Despite missing out on a century, he climbed four places to a career-high No 22. India skipper Virat Kohli, however, dropped a rung to No 11.
In the bowlers' chart, Ravichandran Ashwin and Bangladesh's Shakib Al-Hasan gained a place each and are now 12th and 16th, respectively.
Meanwhile, shuffling of the pack is on the cards as Sri Lanka and Pakistan go head to head in a three-Test series in Galle on Wednesday.
In a tightly-packed middle of the Reliance ICC Test Championship, Pakistan trails third-ranked New Zealand by two points and is in sixth place (level on 97 points with India and England), while Sri Lanka is one point behind in seventh position.
If Pakistan wins all the three Tests, then it would vault into third place on 105 points, while a 2-1 win would also see Misbah-ul-Haq's side move into third place on 101 points.
In contrast, Sri Lanka can also gain as many as eight points and move into third position on 104 points if it sweeps the series. Angelo Mathews' side will rise to third on 100 points if it wins 2-1.