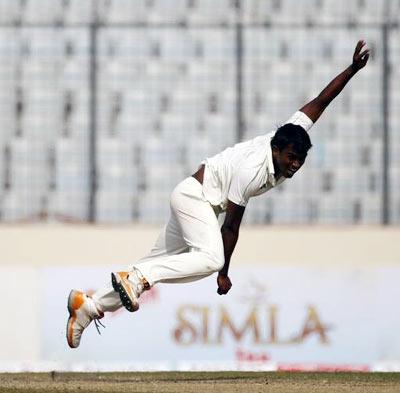 Bangladesh bowling coach Heath Streak said that the hosts are unlikely to field three seamers in the one-off Test against India, starting on Wednesday, taking into account the slow pitch at the Khan Shaheb Osman Ali Stadium, in Fatullah.

"We are unlikely to go with a three-seam attack in this wicket," Streak said on Sunday.

"We are probably looking at two but it is up to the coach and selectors, once they have a better look at the wicket as we get closer to the game," he was quoted as saying by ESPNCricinfo.

Streak welcomed the return of Rubel Hossain from injury and applauded the consistency of Mohammad Shahid but pointed out that Bangladesh would opt for a two-prone pace attack as he believes the pitch is not very conducive for fast bowlers.

"Obviously it is nice to have Rubel back in the equation. Normally wickets here are quite tough for the fast bowlers so it requires a lot of patience. I thought Shahid bowled really well in the Pakistan series and showed what he can do. Rubel has been in good form prior to his injury," Streak said.

"Shahid for us is that dependability. He is the guy you rely on to bowl lots of overs like we saw in the Pakistan Test. He comes in, the captain sets a field and he bowls well to it. He asks the questions. He is not an easy guy for batsmen to get on top of.

"Hopefully he can play that anchor role for us, with the volume of overs with one or two of the spinners and let the other seamer have an attacking option."

Bangladesh's other seam option is Abul Hasan.

Bangladesh captain Rahim is likely not to keep wickets in the Test match because of injury.
Image: Rubel Hossain
Photograph: Andrew Biraj/Reuters