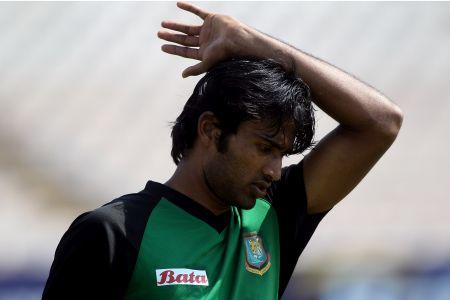 Bangladesh national cricketer Shahadat Hossain was suspended from all forms of the game as police investigate allegations that he and his wife beat their 11-year-old maid.
Police are still searching for the 29-year-old paceman who went into hiding last week after claims he "tortured and abused" the maid who is undergoing treatment in hospital.
"The allegations against Shahadat Hossain have tarnished our image," Bangladesh Cricket Board (BCB) spokesman Jalal Yunus told AFP.
"We've therefore decided to temporarily suspend him from all sorts of cricket being organised by the BCB," Yunus said, adding that Shahadat would only be allowed to play if cleared by the police.
He said the BCB had vocally opposed the abuse of children and women in the past, including the use of minors for labour.
The suspension means Shahadat, who missed the recent series against India and South Africa after twisting his ankle in a Test match in May, cannot play in the national cricket league starting later this week.
A top performance in the league usually guarantees a place in the national team.
Shahadat, who played 38 Tests and 51 one-day internationals for Bangladesh, is now all but certain to miss the two Tests against Australia next month.
Police raided the house of the pace bowler and his wife, Nritto Shahadat, who is also on the run, on the night of September 6 after officers found the injured and crying maid on a street in the capital Dhaka.
"We've also raided his village home and houses of his relatives and friends. But we did not find Shahadat and his wife anywhere," Inspector Shafiqur Rahman, who is investigating the case, told AFP.
The maid, Mahfuza Akter Happy, has told police and local media that the couple beat her. Television footage showed the girl, looking frail and thin, being taken to hospital with swollen black eyes.
"She told us that the couple beat her very often. Her hand was charred with a hot cooking paddle. She had injury marks all over her body," Rahman said.
"The day she fled Shahadat's home she was also beaten mercilessly by both the cricketer and his wife," he said.
A case has been filed against the cricketer and police are seeking his arrest, as the story dominates local media headlines.
A team of doctors is treating the girl at the Dhaka Medical College Hospital.
Image: Shahadat Hossain
Photograph: Julian Herbert/Getty Images