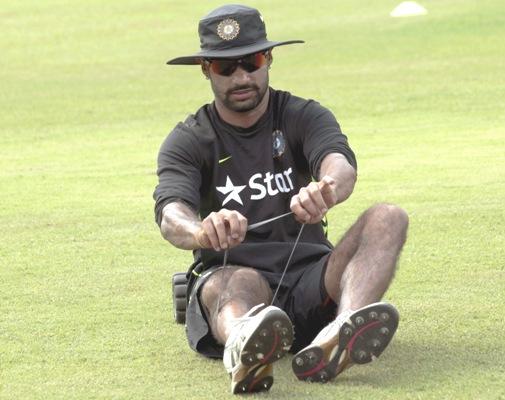 Indian opener Shikhar Dhawan exercises during a practice session. Photograph: Ashikur Rahman/Reuters
They might be the hosts but the Bangladesh team has been left baffled by the pitch for the one-off Test against India with their Sri Lankan coach
Chandika Hathurusingha saying that he has never seen a track like the one in Khan Saheb Osman Ali Stadium in Fatullah.
"The pitch is hard to read because I have never seen a pitch like this before. We have to take the heat into account as well. The wicket is not going to be a fast bowler's paradise, that's what I can tell you," Hathurusingha told reporters ahead of the match starting on Wednesday.
"It is new for me. I don't know, may be for other people also. I am also waiting to see how it is going to play out." Hathurusingha said the home team did not dictate the nature of the pitch as is mostly the norm.
"I have no idea to predict this wicket. For the first time, we have no control over what type of wicket this will be. We will try to select the team that gives us best chance to take 20 wickets," he said.
"We don't usually see grass on Test wickets, but on ODIs and other formats. Whether the grass will hold for five days or how much it will impact on the play, is the question.
"Spinners will have advantage from the first day, and the batsmen are also likely to be at ease here," he added.