- 'The current coaching set-up has done a fantastic job and if they are given a one-year run then they could really make a difference'
- 'On the captaincy front, I believe the transition from Dhoni to Kohli in the Test team has also been really smooth'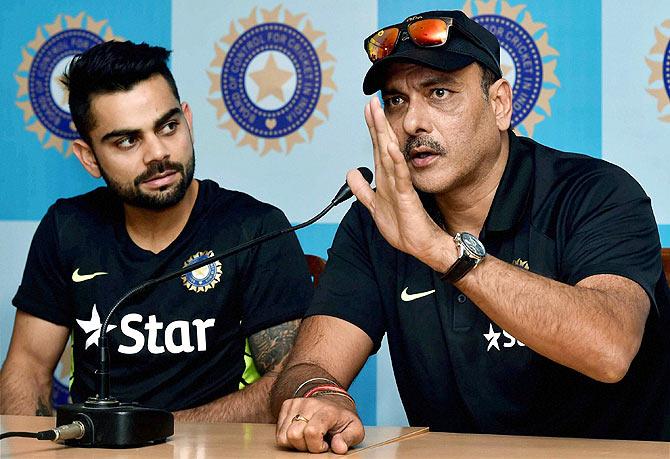 The Indian cricket team's director, Ravi Shastri, and captain Virat Kohli interact at a media conference. Photograph: Swapan Mahapatra/PTI
Having seen the Indian cricket team set-up from close quarters as manager in Australia, former spinner Arshad Ayub says the players are responding well to Team Director Ravi Shastri and the current support staff should be given a one-year run to make a difference.
- Rejuvenated India start favourites against Bangladesh
- Focus on winning as Kohli-led India land in Bangladesh
Ayub, who was with the team on its four-month Australian journey, including the World Cup, feels Shastri has had a positive influence on the current crop of players.
"I think Shastri is doing a very good job. He is working well with the team and the result is for everybody to see.
"He has brought in his vast experience and the boys are responding to his mentorship. So, I think, at the moment the present set-up is working really well for the unit," Ayub said, in an interview from Hyderabad.
"The way the team performed in Australia was testament to that. I mean, they really came well from the tri-series disappointment to play exceptionally well in the World Cup after that. The current coaching set-up has done a fantastic job and if they are given a one-year run then they could really make a difference.
"Sanjay Bangar (assistant coach), Bharat Arun (bowling coach)and R Sridhar (fielding coach) are all very able in their respective departments," he added.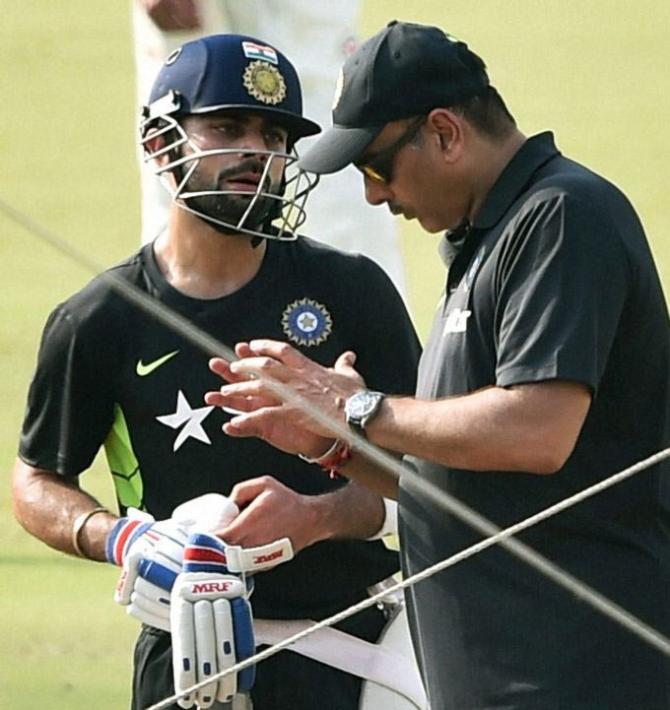 India Test captain Virat Kohli speaks with Team Director Ravi Shastri. Photograph: PTI
Ayub, 56, though stayed non-committal when asked about the administration's delay in finding a new coach since Duncan Fletcher's departure.
"I don't know about that, but what I know is that Shastri has fitted into the role of Team Director very smoothly. It's all about the team responding to a person," he said.
Ayub, who toured Bangladesh with the Gary Kirsten-coached team in 2010, also said that an Indian can fit into the role of a coach in a better way than a foreigner.
"With a foreign coach there is always that problem of communication. That is what I feel. But having said that, the team did so well under Kirsten. He really brought the best out of the guys. I was the team manger when India toured Bangladesh under Kirsten's mentorship. So it depends on person to person," he said.
On the team having two captains for different formats, he saw no reason why the set-up won't work in Indian cricket.
"On the captaincy front, I believe the transition from (Mahendra Singh) Dhoni to (Virat) Kohli in the Test team has also been really smooth. Kohli has connected with the players so well. He is a good leader and will only improve with time, whilst Dhoni has already proved his worth," he said.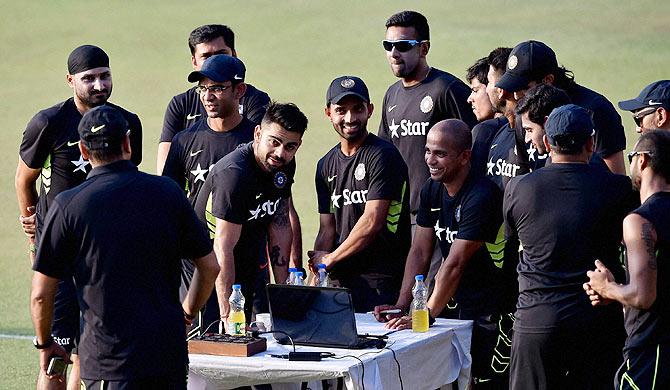 India's cricketers at a training session. Photograph: Swapan Mahapatra/PTI
"I don't think there should be any problem with two sets of captains in different formats. Dhoni took India to where it is right now and it's the turn of Kohli to take it forward," he added.
An off-spinner, who played 13 Tests and 32 ODIs during a four-year international career, Ayub backed the spin duo of Harbhajan Singh and Ravichandran Ashwin to come good in the one-off Test if they are picked in the playing eleven.
"Harbhajan is a quality off-spinner and has been rewarded for his hard-work. I think his experience will certainly count in Bangladesh.
"Ravichandran Ashwin is also a very good spinner and I believe the two will really be an asset in the playing eleven," he said.
On Kohli's recent statement that "time for learning being over" and "time to show results", Ayub said that he sees sense in the Test skipper's vision.
"The turnaround from the tri-series to the World Cup performance was unbelievable and what Virat is saying makes lot of sense now. He is looking in the right direction for doing that (bringing the overseas change)."