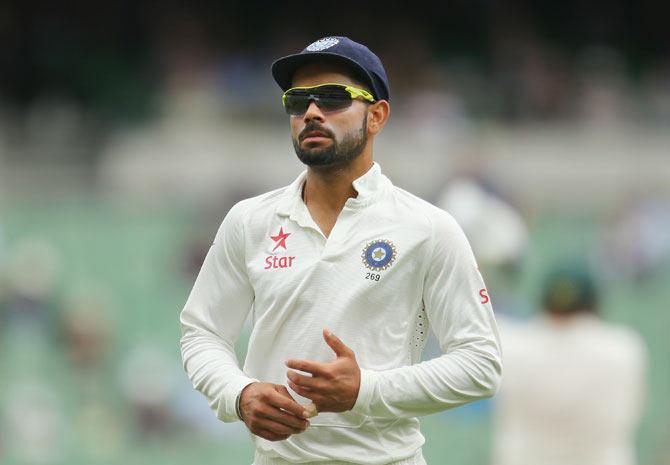 The Indian Test captain Virat Kohli. Photograph: Scott Barbour/Getty Images
India captain Virat Kohli was pleased with his team's effort in the rain-marred one-off Test against Bangladesh, which ended in a draw on Sunday.
- Ashwin takes 5 but Bangladesh hold on for a draw in rain-hit Test
"We had a really good time with the bat, especially Vijay (Murali, Shikhar (Dhawan), Rahane (Ajinkya). It was really a selfless performance by the boys, to score quickly, knowing we won't have too much time because of the rain. It is disappointing for both teams I guess, we would have liked to have full five days of cricket," said Kohli in the post-match presentation.
It was Kohli's first game as India's full time Test captain.
India, after declaring at 462 for six, dismissed Bangladesh for 256 with Ravichandran Ashwin taking a five-wicket haul. Forced to follow on, Bangladesh were 23 for no loss when the stumps were drawn.
"Whatever time we had on the field, the boys showed top intensity and put in a really good effort. Ashwin and Harbhajan (Singh) are quality spinners, so watching them both bowl together is very pleasing for a captain. They put batsmen under pressure throughout. I am very pleased as a skipper, because it is very easy to go off the field and come on and not have intensity," said Kohli.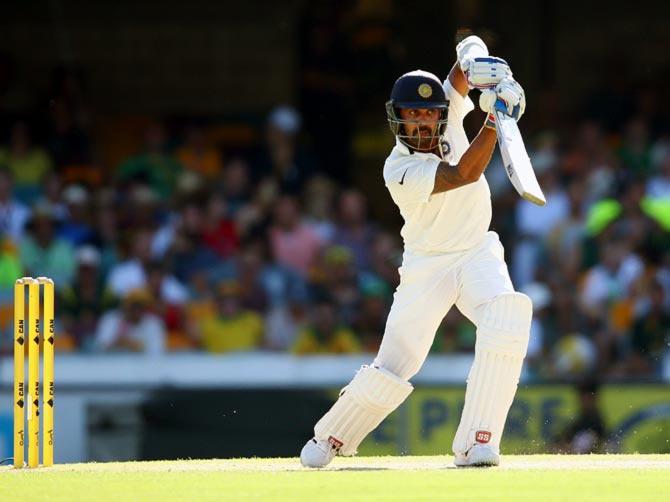 Murali Vijay hits a boundary. Photograph: Cameron Spencer/Getty Images
On the pitch, he said: "The wicket played exactly the way we expected it to play. We thought if there was no rain around, it would reverse and we could use our pace bowlers in the middle and give the spinners some rest. Combination was right, as far as we were concerned, but the conditions were in no one's control."
While India went in with three pacers and two spinners, Bangladesh played four spinners and a lone fast bowler.
The home team captain Mushfiqur Rahim said it was a debatable decision.
"It can be debated, but we thought on that wicket there would be nothing for the quicks, and we don't have anyone who can bowl 140-145 plus. I thought our bowlers did a good job even though it was a flat track on days one and two," said Rahim.
Bangladesh batsmen would have wanted to put a better show than what they managed.
"You would love to have big scores like Shikhar and Murali Vijay and Rahane did, but when Ashwin is bowling that well it becomes difficult.
"We are looking ahead to the three ODIs now. The squad is looking pretty good, but it is a strong Indian side. We played well against Pakistan, so hopefully we will get confidence from that."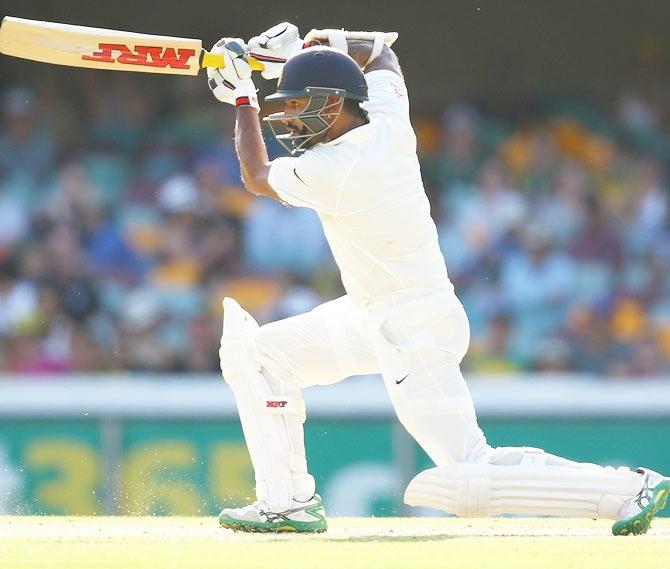 India's Shikhar Dhawan bats. Photographer: Cameron Spencer/Getty Images
Dhawan, was the man of the match for his quickfire 173, said he enjoyed batting in the middle.
"I really enjoyed my batting," he said.
"The wicket was nice and batting-friendly. Vijay played a great knock and Rahane played a great knock after us. You feel very stable when Vijay is at the other end and playing according to the merit of the ball."
How tough is it to bat with the rain threat looming large?
"If the rain happens, then I just go off the field, and once I come back, it takes a few balls to get it back. I don't think too much about the rain, otherwise it will affect your concentration," said Dhawan.
© Copyright 2021 PTI. All rights reserved. Republication or redistribution of PTI content, including by framing or similar means, is expressly prohibited without the prior written consent.