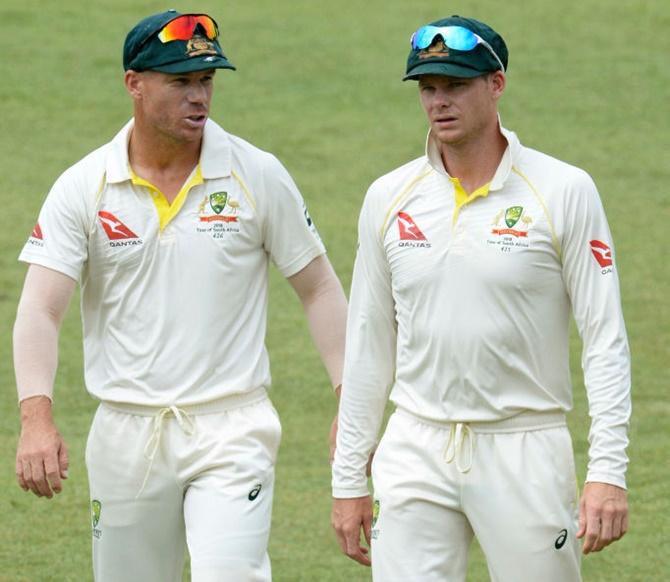 IMAGE: David Warner and Steven Smith of Australia. Photograph: Lee Warren/Gallo Images/Getty Images /strong
Steve Smith stepped down as Australia captain on Sunday and his deputy David Warner also relinquished the vice-captaincy amid stunning ball-tampering revelations that have plunged the test team into crisis.
Cricket Australia said the pair had agreed to give up their leadership roles following 'discussions' with the governing body, with wicketkeeper Tim Paine to take the reins for the remainder of the third Test in Cape Town.
"This Test match needs to proceed, and in the interim we will continue to investigate this matter with the urgency that it demands," CA CEO James Sutherland said in a statement.
"As I said earlier today, Cricket Australia and Australian cricket fans expect certain standards of conduct from cricketers representing our country, and on this occasion these standards have not been met."
"All Australians, like us, want answers and we will keep you updated on our findings, as a matter of priority."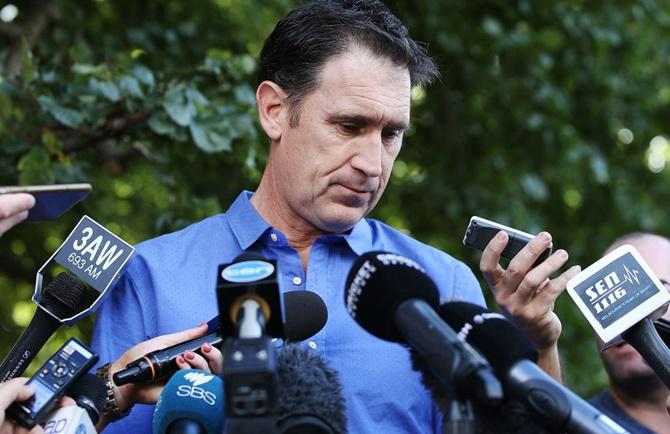 IMAGE: Cricket Australia CEO James Sutherland looks emotional as he pauses while speaking to the media during a press conference at Melbourne Cricket Ground. Sutherland was responding to reports of ball tampering by the Australia Test team in South Africa. Photograph: Michael Dodge/Getty Images
Smith did not join his team mates as they warmed up at Newlands before the fourth day's play got underway at the venue at the foot of the Table Mountain.
The Australians, including Smith and Warner, then walked out to a muted response from the sparse crowd. The four-match series is tied at 1-1 with the hosts in a strong position in the ongoing match.
Smith and Warner's demotion came hours after Australian Prime Minister Malcolm Turnbull heaped pressure on CA to act swiftly and decisively.
"I have to say that the whole nation which holds those who wear the 'baggy green' up on a pedestal about as high as you can get in Australia, certainly higher than any politician that's for sure, this is a shocking disappointment," Turnbull told reporters earlier.
Sutherland had earlier said Smith would continue to lead the team at Cape Town and his fate would not be decided until CA's head of integrity had flown to South Africa to investigate.
Former players and pundits had earlier called on Smith to step down immediately, describing his position as 'untenable'.
Smith had admitted on Saturday that he was 'embarrassed' by the scandal but had no intention of stepping down as skipper.
The Australian Sports Commission said it condemned 'cheating' of any form in sport and asked for Smith to be stood down while CA completes an investigation.
"The ASC expects and requires that Australian teams and athletes demonstrate unimpeachable integrity in representing our country," it said in a statement.
"Given the admission by... Smith, the ASC calls for him to be stood down immediately by Cricket Australia, along with any other members of the team leadership group or coaching staff who had prior awareness of, or involvement in, the plan to tamper with the ball."
Australian newspapers described the scandal as the worst captaincy crisis since 1981 when skipper Greg Chappell instructed younger brother Trevor to bowl underarm with the last ball in a one-day match against New Zealand to secure a victory.