'The skipper would be crying in his hotel room'
'It's disgraceful and it's not accepted by anyone'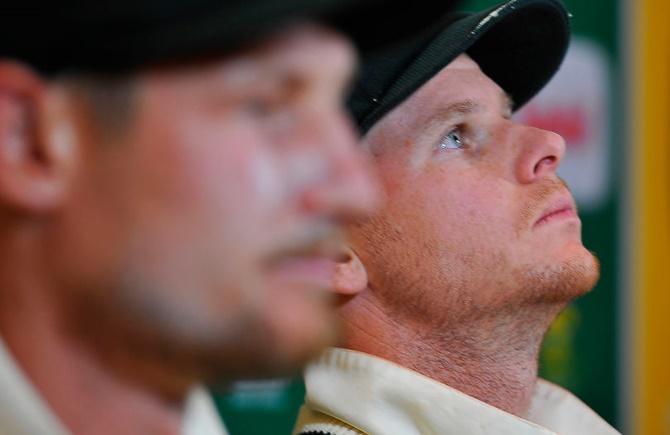 IMAGE: Steven Smith, right, and Cameron Bancroft of Australia. Photograph: Ashley Vlotman/Gallo Images/Getty Images
Captain Steve Smith and vice-captain David Warner have been stood down from their leadership positions in Australia's cricket team for the rest of the third Test. Wicketkeeper Tim Paine took over as skipper for the rest of the match in Cape Town, Cricket Australia confirmed.
Smith, who has led the team since 2015 and is the team's best batsman, confessed to reporters in Cape Town on Saturday that the ball-tampering had been orchestrated by himself and senior players.
Opening batsman Cameron Bancroft, the most junior member in the side at 25, was tasked with implementing the plan and was duly caught on camera using the tape.
He has been charged by the International Cricket Council (ICC), which could lead to a one-match ban and a 100 per cent fine of his match fee.
The cost to Australia's reputation is immeasurably higher, however, with former players across the globe branding the team as cheats and fans castigating the players on social media.
Michael Clarke, Smith's predecessor as captain, said the revelations were 'disgraceful' and that he had no doubt that the skipper would be 'crying in his hotel room'.
"I can't believe the senior players have made a decision to do that," he told Australian television. "It's disgraceful and it's not accepted by anyone."
Australian former Test bowler Rodney Hogg said Smith could not continue in his role.
"Unfortunately this is blatant cheating and Steve Smith will have to step down as Australian captain," Hogg said on Twitter.
Former England captain Michael Vaughan hit out at the decision to use Bancroft to carry out the plan.
"What I find appalling in all this is the youngster got given the job," he tweeted.
"Was it because someone in the team had been accused of using Hand tape for a similar affect !!!!!!! So they wanted someone else to take the mantle.... Disgraceful behaviour by senior pros."
Sutherland described it as a 'very sad for Australian cricket' and said fans had 'every reason to wake up and not be proud of the Australian cricket team'.
However, the long-serving CEO declined to call the ball-tampering 'cheating' and steered studiously clear of using the word.
"Look, I think it's pretty clear that ICC match referee has made a charge," Sutherland said.
"A player (Bancroft) has admitted to that... I'll make a judgement on that in the next couple of days."
Prominent Australian cricket writer Gideon Haigh dismissed Sutherland's response as one from a 'quintessential bureaucrat'.
"It doesn't ring true, it doesn't resonate with the public," Haigh told local broadcaster ABC.
"We actually expect of Australian cricketers behaviour that we do not expect of players in other (sporting) codes."
Australian newspapers described the scandal as the worst captaincy crisis since 1981 when skipper Greg Chappell instructed younger brother Trevor to bowl underarm with the last ball in a one-day match against New Zealand to secure a victory.
"What took place at the foot of Table Mountain was dumb and deplorable in equal measure," wrote Fairfax Media's Chris Barrett.
"In the case of Smith, he should have known better... The mistake may cost him very dearly."
Former captain Allan Border said it was a 'a bad look for Australian cricket'.
"Certainly, it will go all the way through to Cricket Australia," he said commentating on broadcaster Supersport.
"The directors will get involved. It's that serious."