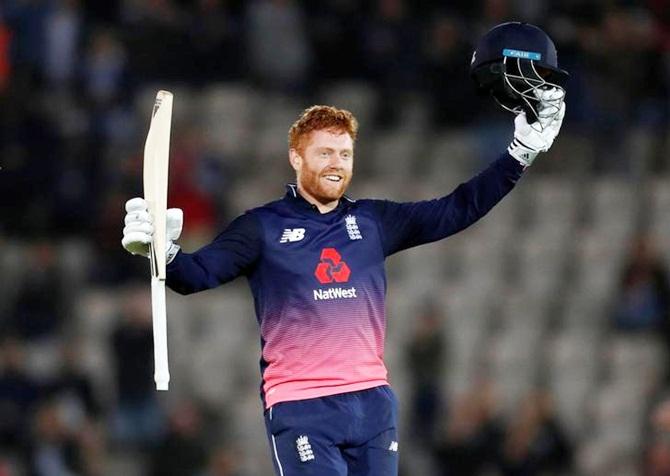 IMAGE: England's Jonny Bairstow celebrates after his century in the fifth ODI against the West Indies on Friday. Phgotograph: Paul Childs/Reuters
Jonny Bairstow smashed a career-best unbeaten 141 and Jason Roy hit 96 as England thrashed the West Indies by nine wickets in the fifth ODI in Southampton to complete a 4-0 series rout on Friday.
The build up to the match had been dominated by the international suspension of all rounder Ben Stokes and opener Alex Hales after the pair were involved in an altercation outside a Bristol nightclub but the off-pitch events failed to distract England from trouncing West Indies.
After spinners Moeen Ali and Adil Rashid restricted the visitors to 288-6, Bairstow completed his century from 90 balls having shared an opening stand of 156 with Roy.
With Joe Root contributing 46, England secured their 11th win of their last 13 completed matches.
Bairstow's knock, which included 17 fours, was the highest by an England player against West Indies in one dayers, eclipsing Marcus Trescothick's 130 in 2004.
Roy, who was drafted in for the last two one-dayers to replace Hales, made the most of his recall as he scored his second successive fifty.
Roy notched up 11 fours and a six as a rampant England raced to 100 runs within 15 overs before he was dismissed lbw by pace bowler Miguel Cummins just four short of a century.
Root belted a six down the ground to secure victory as England finished on 294 for one with 12 overs remaining.
"I'm pretty pleased. It's nice to finish a long summer with some runs and head into the winter with confidence. You wait a long time for a first hundred and when it comes you want to capitalise," said man-of-the-match Bairstow.
West Indies
C. Gayle c Plunkett b Curran 40
K. Hope c & b Plunkett 33
S. Hope c Billings b Ball 72
M. Samuels st Buttler b Ali 32
J. Mohammed c Root b Rashid 25
S. Ambris not out 38
R. Powell b Plunkett 11
A Nurse not out 31
Extras: (w6) 6
Total: (6 wkts, 50 overs) 288
Did not bat: A Joseph, J Taylor, M Cummins Fall of wickets: 1-52 (Gayle), 2-86 (K Hope), 3-143 (Samuels), 4-195 (Mohammed), 5-221 (S Hope), 6-253 (Powell)
Bowling: Ball 10-1-94-1 (1w); Curran 10-1-62-1 (2w); Plunkett 10-0-54-2 (2w); Rashid 10-1-42-1 (1w); Ali 10-0-36-1.
England
J. Roy lbw b Cummins 96
J. Bairstow not out 141
J. Root not out 46
Extras: (lb2, w9) 11
Total: (1 wkt, 50 overs) 294
Did not bat: E Morgan (capt), J Buttler (wkt), S Billings, M Ali, T Curran, A Rashid, L Plunkett, J Ball.
Fall of wickets: 1-156 (Roy)
Bowling: J Taylor 8-0-52-0, Joseph 7-0-54-0, Cummins 8-0-70-1 (5w), Nurse 8-0-56-0, Samuels 4-0-41-0, Powell 3-0-19-0.
Result: England won by nine wickets
Series: England win series 4-0
Toss: England
Umpires: Simon Fry (AUS), Michael Gough (ENG)
TV umpire: Rod Tucker (AUS)
Match referee: Javagal Srinath (IND)
Previous Results
Sep 19: 1st ODI, Old Trafford (d/n): England won by seven wickets
Sep 21: 2nd ODI, Trent Bridge (d/n): No result, rain
Sep 24: 3rd ODI, Bristol: England won by 124 runs
Sep 27: 4th ODI, The Oval (d/n): England won by six runs (D/L method)
Note: d/n=day/night