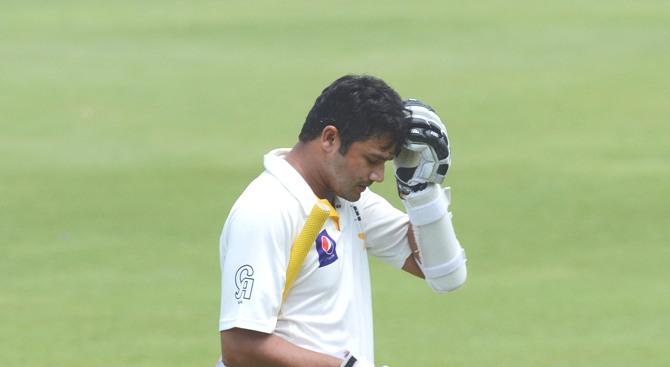 IMAGE: Pakistan's Azhar Ali. Photograph: Duif du Toit/Gallo Images/Getty Images
Pakistan captain Azhar Ali tendered his resignation over the presence of tainted paceman Mohammed Aamir in the national training camp but agreed to continue after PCB chairman Shaharyar Khan's intervention.
There is a debate in Pakistan cricket over giving Aamir a chance to redeem himself after his involvement in the 2010 spot-fixing scandal.
The players, including Ali and Mohammed Hafeez, had even refused to join the national camp, protesting Aamir's presence.
Ali, on Tuesday, met Khan and requested that he be relieved of the duty to lead Pakistan, but the former convinced him to continue as captain.
"Azhar Ali met the chairman PCB (Shaharyar Khan). He tendered his resignation. The chairman didn't accept his resignation, Azhar Ali agreed and he will continue as captain," the PCB said.
Aamir is one of the 26 probables named for Pakistan's pre-season conditioning camp.
The young paceman served a five-year ban after being indicted in the scandal and was allowed to bowl in domestic cricket by the ICC.
He apologised to both Ali and Hafeez for his actions and even offered to leave the game if they thought that he does not deserve to play for Pakistan again.
Khan had then convinced both Hafeez and Ali to join the camp.
"I do respect their concerns but some of them, I told them, are not acceptable. So they understood and confirmed that they are on the same page with us," Khan had said.