'As I keep saying, and always say, I'll look back at these things at the end of my career. I am proud of the achievement that's for sure'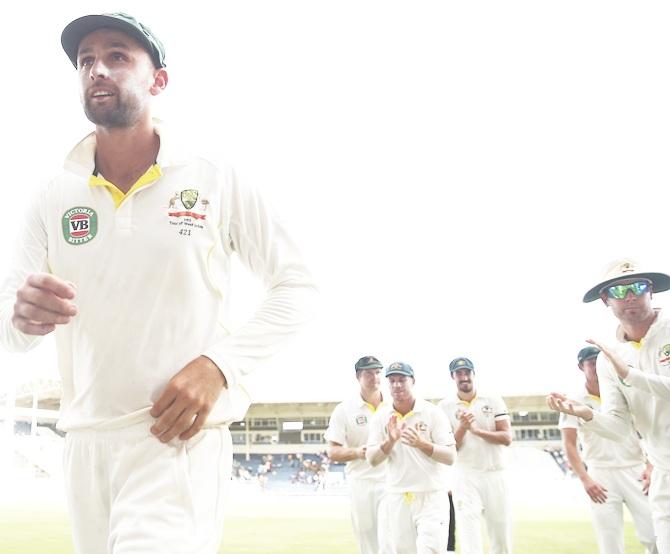 Australia's Nathan Lyon, left, leads his team from the ground at stumps. Photograph: Ryan Pierse/Getty Images
Nathan Lyon says he still has plenty to learn despite becoming Australia's most prolific off-spinner by removing Kraigg Brathwaite on the second day of the second Test against West Indies in Kingston on Friday.
Smith scores 199 as Australia take command against Windies
The 27-year-old's 142nd Test wicket, the first of three he took at the cost of 35 runs, not only helped Australia to a dominant position at Sabina Park but also took him past the career tally of Hugh Trumble.
Trumble had held the title of Australia's most effective off-spinner since he retired in 1904 with 141 victims in 32 Tests, then a record haul for any bowler in the nascent international game.
"I'm pretty proud. It's a big moment," Lyon said. "As I keep saying, and always say, I'll look back at these things at the end of my career. I am proud of the achievement that's for sure. It's a big record to break. Hopefully I can add to it."
Lyon's is an unlikely success story and he has been dropped with a regularity that would severely damage the morale of many a bowler.
Unassuming and physically unprepossessing, Lyon is pretty much the antithesis of leg-spinner Shane Warne, the player to whom every Australian slow bowler will be compared.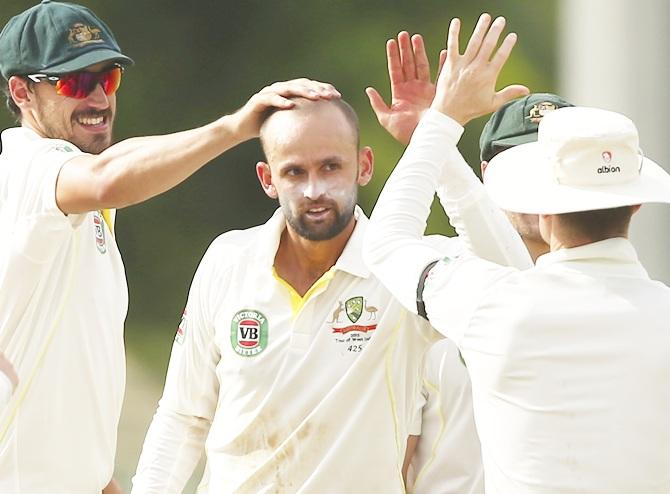 Australia's Nathan Lyon, centre, celebrates after taking the wicket of Denesh Ramdin of West Indies. Photograph: Ryan Pierse/Getty Images
Lyon was not considered when Australia were looking for a spinner to replace the dumped Nathan Hauritz in the 2010-11 Ashes series because at the time he was a groundsman at Adelaide Oval and had not yet played first-class cricket.
He played his maiden Test just a few months after his first-class debut on the tour of Sri Lanka in August 2011 and took the wicket of Kumar Sangakkara with his very first ball on his way to 5-34.
His 144 wickets in 41 tests have cost 35 runs apiece and Lyon accepts that he can still improve his game.
"I'm still learning. I feel like I'm learning each time I go out into the nets," he added. "Each time I walk out into the nets and in the middle I try to get better each and every day.
"I've got a lot of learning to do and I'm really enjoying it and hopefully it's just the start.
"I want to keep getting better at my bowling. I want to keep getting a better stock ball.
"The day I stop learning and don't want to get better is the day I'll give it up."