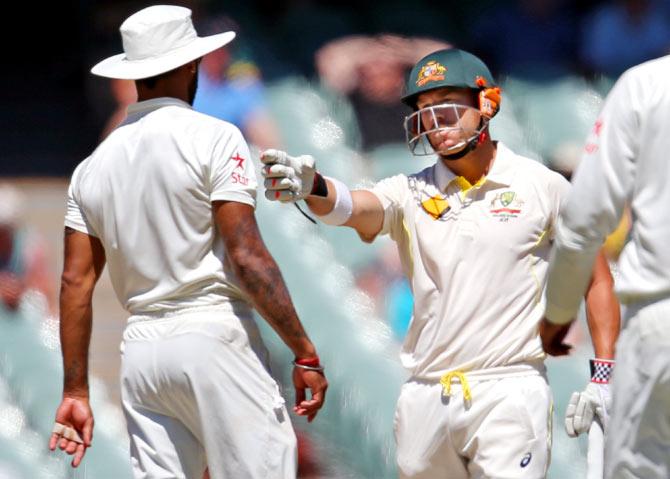 David Warner (right) gestures towards Shikhar Dhawan during the first Test against India at Adelaide in December. Photograph: Scott Barbour/Getty Images
The criticism they are facing notwithstanding, Australia's wicketkeeper-batsman Brad Haddin said his team is quite comfortable playing a hard-nosed brand of cricket and would not be affected by the furore caused by David Warner's latest code-of-conduct offence.

Warner was fined 50 per cent of his match fee after a verbal clash with Indian batsman Rohit Sharma in their last One-day International in Melbourne on Sunday.

It was the Aussie opener's second offence for the season and drew a stern warning from Cricket Australia chief James Sutherland, who told him to "stop looking for trouble".

"We have a clear message of where it's all at," Haddin said in Hobart ahead of Friday's tri-series match against England.

"We know the brand of cricket we want to play and Davey [Warner] is no different to all of us. We're out there to compete. The umpires are there to do their job and they'll adjudicate on anything they see that's unfit and not in the spirit of the game," Haddin told the Daily Telegraph.
- Schedule: ICC Cricket World Cup 2015

Haddin insisted that the Australian team will continue to play the way they have always played the game.

"Every Australian team I've played in respects the game of cricket and respects the opposition. We're pretty comfortable with the way we're playing," said Haddin.

Earlier this week, Australia coach Darren Lehmann said his boys would continue to play aggressive cricket.

"If the ICC decides it's not in the spirit of the game or we cross the line then they'll come down on us," Lehmann had said.
"We're always going to teeter pretty close to it. That's the way we play."