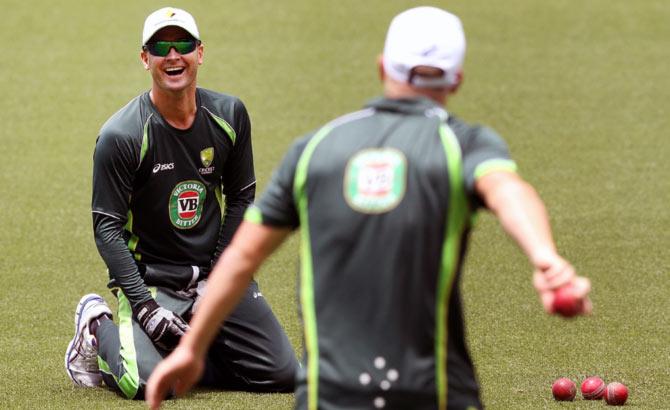 Michael Clarke (left) with David Warner during an Australian nets session. Photograph: Michael Dodge/Getty Images
Former Australia captain Ian Chappell has no doubt that the hosts will win the upcoming Test series against India but he feels the margin would depend on how the visiting batsmen tackle the pace and bounce.
- I got recognition in Australia but couldn't live up to it the last time: Ishant
"The one thing we do know -- Australia will win. But by what margin? The key to the result -- and it's only a matter of the margin of Australia's victory -- will be how India's batsmen tackle the pace and bounce of the pitches and how effective their attack is under these conditions," Chappell wrote in his column for Daily Telegraph.
However, Chappell, admitted that a good start by the Indian batsmen might pose a threat to Australia.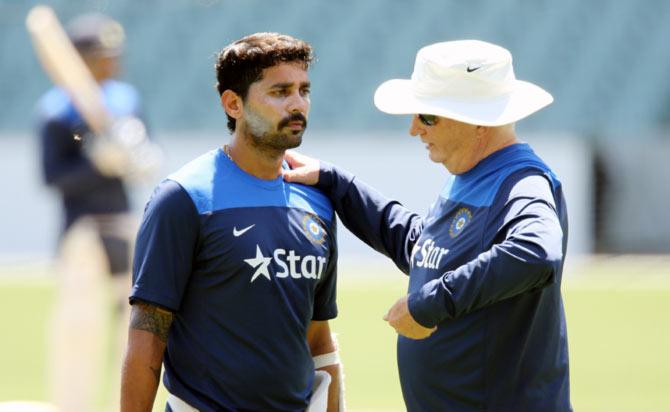 India coach Duncan Fletcher (right) speaks to Murali Vijay. Photograph: Morne de Klerk/Getty Images
"India need to make a good start when they bat. If that happens, then Virat Kohli and Rohit Sharma, two excellent players of the horizontal bat shots, could be extremely dangerous," he said.
Speaking on India's bowling, Chappell said, "Ishant Sharma is the most experienced and he needs to be a potent spearhead. If he can inspire by taking wickets with the new ball, then it will improve the chances of India's other bowlers. This is India's best way to expose any Australian hesitancy against spinners when playing at home."
Chappell feels it would be tough for the Australian players to get into the rhythm quickly as the tragic demise of Phillip Hughes would be fresh in their minds.
"Just a couple of weeks ago, the most likely result in the Test series was Australia being a comfortable 4-0 victors over India. The tragic accident that took Phil Hughes' life has changed that outlook and a lot of other things in the game," said the former batsman.
"There's no doubt the Australians, especially, will find the series tough going. It will be harder for bowlers than batsmen. No fast bowler wants to hit a batsman in the prevailing mood. They know they have to bowl bouncers, it's an integral part of their armoury, but it will be a while before they deliver them with full intensity," he explained.