Sachin Tendulkar spared the hosts a century as India's middle-order batsmen warmed up with some useful knocks before the two-day practice match against Cricket Australia Chairman's XI ended in a draw in Canberra on Friday.
The visitors were 320/6 in reply to hosts' 398 for 6 declared when rain brought an early halt to the proceedings.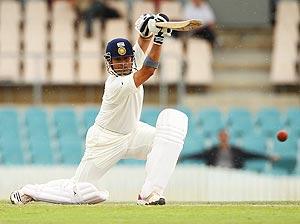 Tendulkar was unbeaten on 92 at tea but didn't come out to bat on resumption as the Indians tested their entire line-up. VVS Laxman (57 not out), Rahul Dravid (45) and Rohit Sharma (56 not out) were also among the runs.
Tendulkar came to the crease at the dismissal of Gautam Gambhir (35) in the 21st over and gathered his runs over the next 39 overs, facing 132 balls and hitting 15 fours in through his innings.
He shared a 132-run fourth wicket stand with an equally elegant Laxman which drove the hosts to despair. Laxman, who took 66 balls for his 50, also retired like Tendulkar after stroking 57 classy runs.
Even if he had come out to bat, the imminent century would not have added to Tendulkar's tally of 99 international centuries or 78 first-class hundreds.
Young spinners, off-spinner Glenn Maxwell and leg-spinner Cameron Boyce hardly made any impression and neither did medium-pacers Jake Haberfield and left-arm pacemen Josh Lalor who all have played less than 10 first-class matches.
Boyce, however, did manage to grab a couple of wickets, dismissing Dravid and Virat Kohli. Ajinkya Rahane (3) and Gautam Gambhir (35) were the two other Indian wickets to fall in the dull draw.
Only Peter George, who once claimed Sachin Tendulkar in the Bangalore Test last year, did well to unsettle the iconic batsman at times.
Tendulkar was in sublime touch, toying with the bowling as he could adjust strokes at the last minute and repeatedly hit Maxwell through the covers against the off-break.
Gambhir (35) and  Rahul Dravid (45) managed useful outings and as the game descended to a farcical level, Rohit Sharma too helped himself to a half century in gathering gloom.
A spell of rain closed out the game with the final hour of play still not over.
Replying to Cricket Australia's score of 398 for six declared, the Indians got off to a poor start with Rahane being dismissed in the second over, Jake Haberfield doing the damage.
Gambhir, who has not been among the runs of late, and Dravid steadied the innings to some extent with a 71-run partnership for the second wicket.
Glen Maxwell struck for his team by evicting Gambhir while Cameron Boyce accounted for Dravid a few overs later to reduce the visitors to 107 for three.
The veteran duo of Tendulkar and Laxman then took centrestage and took the Indian total beyond the 200-run mark with  a flurry of strokes on both sides of the wicket.
Scoreboard
CA Chairman's XI 1st innings: 398 for 6 dec
Indians 1st innings:
Ajinkya Rahane c Boyce b Haberfield 3
Gautam Gambhir c Broad b Maxwell 35
Rahul Dravid c George b Boyce 45
Sachin Tendulkar retired out 92
VVS Laxman retired out 57
Rohit Sharma not out 56
Virat Kohli c & b Boyce 1
Wridhiman Saha not out 23
Extras: (B-4, LB-2, NB-2) 8
Total: (83.1 overs) 320 for 6
Fall of wickets: 1-3, 2-74, 3-107, 4-240, 5-240, 6-246
Bowling: Peter George 19-7-38-0, Jake Haberfield 12-3-54-1, Josh Lalor 12-1-45-0, Glenn Maxwell 17-2-      84-1, Cameron Boyce 18-1-74-2, Wes Robinson 3-0-8-0, Joe Burns 2.1-0-11-0.