India seems to be going from bad to worse, their hopes of qualifying for the CB tri-series finals hanging in balance after back-to-back losses to Australia and Sri Lanka respectively.
What adds to their woes is the abysmal showing in all departments. While the bowlers were listless in both the above-mentioned matches, conceding 288 and 289 runs respectively, and giving away more than 90 runs in the final ten overs, the batsmen were no better.
- Like Ponting, should Sachin quit ODIs? Have your say
The senior duo of Sachin Tendulkar and Virender Sehwag were biggest flops in both defeats. Tendulkar's wait for his 100th international century seems unending as his batting takes a steep downward slide. He has just 90 runs to show from five innings in the tri-series, while Sehwag has 30 from three innings.
Yet, the team management keeps persisting with the two seniors. The 'perform or perish' mantra, applicable to every sport, appears forgotten.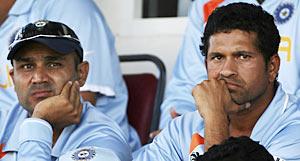 In showing Ricky Ponting the door in ODIs, only a couple of days after he was asked to lead the side in the absence of the injured Michael Clarke, Australia showed why they continue to be one of the top teams in world cricket.
One wonders why the Indian selectors aren't adopting a similar stance.
Former India player, and now television commentator, Sanjay Manjrekar highlighted the issue in a post on Twitter. "Oz selectors know they have the support of media & fans when they drop a player on performance whatever his stature. An Indian selector does not have that luxury,' he wrote.
Captain Mahendra Singh Dhoni was direct in his criticism of the Indian top three batters and explained why the three are being rotated.
'It's not that these fielders are bad, but for this environment and these conditions and big outfields, they are slightly on the slower side. They will be exploited. It will affect our fielding in a big way, which means there will be more pressure on the batsmen to score those extra 20 runs. But if the middle-order does not perform consistently well, you may have to go with the experienced guys at the top of the order,' he said.
- Top three not playing all games because they are slow: Dhoni
So, indirectly, Dhoni made it clear that compromises are being made as the team is forced to play at least one or two of the three seniors in every game.
Manoj Tiwary hit a century in his last ODI, against the West Indies, yet he hasn't got a game in the tournament despite Rohit Sharma also being made to sit out after a run of poor scores.
Is the presence of the out-of-form seniors affecting the team's performance in the tri-series? Do you agree with Dhoni that Sehwag, Tendulkar and Gambhir are 'slow' for ODIs? Is it time for the trio to quit ODIs?