It was a comedy of errors which Indian cricket captain Mahendra Singh Dhoni did not find funny at all.
In the 29th over of the tri-series ODI against Australia, India appealed for a stumping against Mike Hussey off Suresh Raina's bowling, which was referred to third umpire Bruce Oxenford.
What should have been a simple case of the official giving either of the two rulings - out or not out- turned into a comical scene.
Hussey, whose foot seemed just behind the line in the replays, was declared out at first by Oxenford but as the left-hander made his way to the pavillion on-field umpire Billy Bowden rushed to bring him back.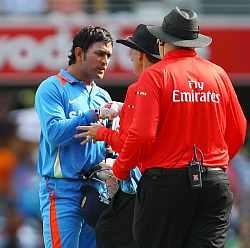 As it transpired, the third umpire had apparently pushed the wrong button but swiftly made amends by asking the on-field officials to call the batsman back.
Hussey laughed his way back to the crease but Dhoni was not too amused and was seen having an animated chat with Bowden about the confusion as Australia were precariously placed at 119 for three at that stage.
TV commentators Wasim Akram and Ravi Shastri also couldn't see the funny side of it.
"Come on, there are just two buttons there. You have to push one of them and you can't do that right. Amazing," remarked Akram.
"As third umpire, that's what you get to do in a whole day's work, can't go wrong on that," added Shastri.