India's tri-series campaign was thrown into disarray as they slipped to the bottom of the points table after losing to a rejuvenated Sri Lanka by 51 runs in another one-sided encounter in Brisbane on Tuesday.
Chasing Sri Lanka's imposing total of 289 for 6, the Indians suffered another top-order collapse and folded up for 238 in 45.1 overs, giving the islanders their second successive victory in the competition.
The target of 290 proved too stiff for the Indians under lights despite a good 96-run fourth-wicket stand between Virat Kohli (66) and Suresh Raina (32), and a late counter-attack by Irfan Pathan, who scored 47 off 34 balls, inclusive of seven boundaries.
The Sri Lankans were well-served by Nuwan Kulasekara, who claimed 3 for 40, including the scalps of Sachin Tendulkar and Gautam Gambhir, and Thisara Perera, who took 4 for 37.
Kulasekara's effort earned him the man-of-the-match award.
Sri Lanka forged ahead of Indians on the points table, though the latter crossed 231 and avoided conceding a bonus point.
The Lankans have 11 points from five matches while India have 10 from six.
Australia have 14 points from five games.
India's chase began on a disastrous note as stand-in skipper Virender Sehwag slashed at a wide delivery from Lasith Malinga and the catch ballooned up for the third man fielder to complete the job.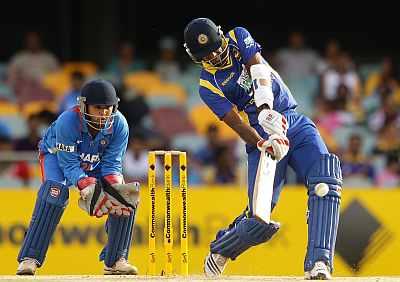 Sachin Tendulkar (22) kept everyone interested during his brief stay. He once punched Lasith Malinga through cover and then flicked him through mid-wicket, both shots of highest pedigree. But, then, he tried to leave a Kulasekara delivery and succeeded only in dragging the ball on to his stumps.
The hole only got deeper when Gautam Gambhir (29) walked out to Kulasekara and tried to dab him at the last minute past slips. It went rather uppishly and Perera at gully smartly held the chance.
India were reduced to 54 for 3 in the 12th over and fighting for breath.
Virat Kohli and Suresh Raina then conjured a partnership, both having benefited from dropped chances. Raina, on 5, steered at the throat of backward point and Kohli's pull-shot when on 14 popped out of Dinesh Chandimal's hands at widish long-on.
Kohli was again put down on 34 at midwicket by Chandimal off Lasith Malinga at the total 116 for 3 in the 25th over.
The two young batsmen benefited from these reprieves and stabilized the innings, with singles although boundaries seemed hard to come by.
Kohli reached his half century off 66 balls, but in the 31st over India suffered the loss of Raina (32), who spooned up a tame catch off Ferveez Maharoof to short cover.
Raina scored 32 off 55 balls, with one four. The duo together put on 92 runs for the fourth wicket off 116 deliveries.
The pace was too hectic and it told on Kohli, who perished in the 36th over, lofting Perera to mid-on. He scored 66 off 83 balls with two fours.
India lost another wicket before the batting Powerplay was out when Ravindra Jadeja (17) dragged Kulasekara on to his stumps.
India were 191 for 6 in the 38th over.
Parthiv Patel (4) fell cheaply and Ravichandran Ashwin (5) also didn't last long, leaving India at 232 for eight after 43 overs.
Pathan was brilliant with his late hitting and struck whistling clean shots in his 47 off 34 balls with seven fours.
Earlier, Sri Lanka batted solidly through their innings to raise a healthy total.
After openers Tillakaratne Dilshan (51) and Mahela Jayawardene (45) put on 95 runs for the first wicket, Dinesh Chandimal (38), Lahiru Thirimanne (62) and Angelo Matthews (49 not out) contributed handsomely while raising productive stands.
The Sri Lankans were off to a brisk start, as the newly-formed opening pair of the experienced Dilshan and Jayawardene shifted gears easily.
Dilshan was circumspect to begin with in the first over of R Vinay Kumar but then eased the Karnataka medium-pacer through covers in his second and struck a fierce cut off Irfan Pathan that disappeared quickly behind the ropes.
Umesh Yadav came on in the sixth over and it wasn't a pleasant experience for the young quick bowler. Dilshan flashed at his fourth delivery that took an edge and flew over third man for a massive six. The next delivery was thrashed past cover and Sri Lanka's launch pad was ready.
Dilshan picked yet another four off a Vinay Kumar delivery by flicking him past the midwicket boundary.
Jayawardene, all this while, intelligently rotated the strike and had hit just one four, a thrust past midwicket off Yadav, as the 50 of the innings came up in the 10th over.
The Lankan pair kept up the consolidation work and at the first drinks break, after 17 overs, the score was 84 for no loss.
India got their first breakthrough when Jayawardene, looking to pull Irfan Pathan, handed a catch at forward short leg to stand-in skipper Virender Sehwag, who leaped to his left to pluck an outstanding catch.
Jayawardene made 45 off 55 balls studded with two fours.
Dilshan reached his half-century when he drove Ashwin to long-on for a single in the 20th over. At this stage, he had faced 63 deliveries and hit five fours and a six.
The opener was dismissed soon thereafter, top-edging a catch to wicketkeeper Parthiv Patel as he shaped to cut Ashwin. He scored 51 off 72 balls with five fours and a six.
India then pulled back the scoring as the two spinners, Ashwin and Ravindra Jadeja, tied up things from the two ends up.
Only 20 runs came from the next six overs before Yadav was brought on for his second spell.
The fast bowler immediately tasted success as Kumar Sangakkara (8) pulled a delivery straight into the hands of Sachin Tendulkar at fine leg that left Sri Lankan reeling 124 for 3 in the 28th over.
The next few overs were of consolidation by the young pair of Chandimal and Thirimanne.
Chandimal, who has had an outstanding series so far, was rock-solid, while left-hander Thirimanne played a few excellent cover drives and used the pace of Yadav to his advantage.
The two positioned themselves for a perfect onslaught when the batting powerplay was claimed after the 35th over.
The 50-run stand between the two came off 52 balls when Thirimanne glided a lifting delivery from Vinay Kumar to the third man fence. He repeated the stroke against Irfan Pathan in the next over.
India finally broke the stand in the 39th over when a Pathan yorker slipped below the bat of Chandimal and cleaned him up. Chandimal scored 38 off 49 balls and the fourth wicket stand yielded 71 runs from as many balls.
It was a dramatic moment in the 40th over, almost ugly, when Ashwin motioned to bowl a delivery and seeing Thirimanne out of his crease, removed the bails.
Apparently both the bowler and Sehwag appealed, the two umpire got into discussion. Sehwag then confronted them before Tendulkar defused the situation by nudging the skipper to withdraw the appeal.
Thirimanne, at that stage, was on 44 and total 196 for 4. The five overs of batting powerplay yielded 30 runs for Chandimal's wicket.
Thirimanne pushed Ashwin to long-on to complete his 50 off 53 balls, inclusive of five fours, in the 44th over. He departed in the 46th over, caught brilliantly by a diving Raina at sweeper position. The young left-hander scored 62 off 62 balls with six fours. The fifth wicket stand was worth 49 off 43 balls.
Matthews remained unbeaten on 49 off 37 balls with four hits to the fence and a six.
Yadav was the most disappointing of the Indian bowlers, conceding 58 runs from his eight overs for a wicket.
Sehwag surprised everyone by letting Suresh Raina and Virat Kohli bowl the last two overs. In all, 24 runs came from them.