Former Australia opener Justin Langer lauded the "perform or perish" policy adopted by national selectors, who dropped two-time World Cup-winning former captain Ricky Ponting after his poor show in the ongoing CB tri-series against India and Sri Lanka.
Langer said it is good to see that a selection culture that rewarded mediocrity has ended.
"The thing about Ricky Ponting being dropped this week, if there is a positive to it, it's that the selectors are saying performance is everything," Langer said.
- Ricky Ponting: Limited-overs, unlimited success!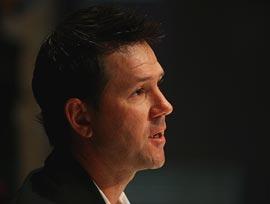 "Over the last couple of years, whether it's in Shield cricket or Test cricket, the competition hasn't been that strong and they have been rewarded for mediocre performances.
"The selectors have shown their hand; it doesn't matter if you're Ricky Ponting or a 21-year-old, you've got to perform. That's the system we want to get, a real cut throat, tough system through Australian cricket," Langer was quoted as saying by The Sydney Morning Herald.
Langer said time has come for the youngsters to come up with exceptional performances to fill the spots left vacant by giants like Ponting.
"The next guys have to be smashing the door down, not just knocking on the door because they've got some talent and a fancy haircut and an earring, they've got to be knocking it down.
"It might give younger players an opportunity. There will be increased pressure because the expectation of being a No.3 batsman in Australia is huge. I'm looking forward to seeing who has got the steel and the resolve and the technique and the desire to become our next high-performance player."