India captain Mahendra Singh Dhoni on Wednesday advised his players to learn from mistakes and save themselves from injuries after his side cruised to a four-wicket win over Sri Lanka in the second match of the CB tri-series in Perth.
Referring to Virat Kohli, who top scored for India with 77, running himself out while going for a needless single and getting cramps in the process, Dhoni said, "You do not get a runner nowadays. You have to learn from mistakes and ensure that you do not get cramps. But it happens."
"You have to be ready for these circumstances. You have to hydrate yourself well overnight and during the game," said the Indian captain.
He heaped praise on his bowlers, especially off-spinner Ravichandran Ashwin, for the win.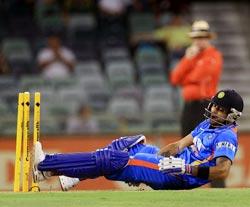 The Indian bowlers recovered from early sloppiness to restrict the Sri Lankans to 233 for eight with Ashwin taking  3/32 before the batsmen rattled up the target with 20 balls remaining.
"I always smile whether we are winning or losing, it is good to be on the winning side. The bowlers did really well. Praveen Kumar had an off day today and so Ashwin had to bowl out of his comfort zone in the Powerplays and the slog overs. He bowled well and batted well when we chased," Dhoni said.
"We have confidence in Ravindra Jadeja to bat at number seven and he also bowled well," he added.
Dhoni said it was difficult to lift the team's morale after a series of defeats.
"It is difficult task but if each player does his work it becomes easier. We tried to improve upon the mistakes we committed in the last match and we also will improve upon the mistakes committed today," he said.
Man-of-the-match Ashwin said he was desperate to get a win today and contribute in it.
"It was gripping a little bit, I got a few wickets and at the end, finished it off with the bat. One victory on the board is very important. I was desperate to get a win today," he said.
"I told Jaddu (Ravindra Jadeja) that we have to bat 60 balls here and that is what we did," he added.
Asked if he would consider himself as an all-rounder -- batting or bowling all-rounder, he said, "I would rather rate myself to unfold as the game goes on, will like to be considered as an offie first."
Sri Lankan captain Mahela Jayawardene rued that his side were short by 30-40 runs and said that made the difference.
"We were probably 30-40 runs short. We had our chances but India played better cricket than us. We kept wickets in hand but we did not probably play their spinners well. We got bogged down in the middle period.
"We needed to get runs on the board but fell short. A score of 250-260 would have been good total. The Indian batting line-up was tough. We picked wickets but turned out to be not enough," he said.