Their individual approach towards batting is radically opposite but Davis Warner feels that playing county cricket alongside senior West Indian batsman Shivnarine Chanderpaul had helped him a lot.
Incidentally, Warner had equalled Chanderpaul's record of the fourth fastest century in Test cricket scoring a ton in only 69 balls. Warner claims that it's from Chanderpaul he has learnt the art of batting through the day.
"I learnt this off Chanderpaul when we were at Durham," Warner was quoted as saying by Herald Sun.
"He batted on the bowling machine for six hours. I said, 'This is ridiculous, how can you do this?' And he said, 'If you're going to bat for six hours in a game you might as well practise it'."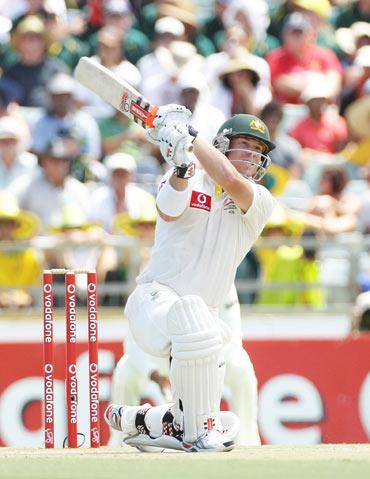 At the rate he scored his 180 in Perth, batting for six hours would taken Warner past 300. From Matraville in Sydney's eastern suburbs, Warner, 25, always had simple goals.
"When some people turn 18, they want to travel but I had no interest in that," he said. "I just wanted to work and make it in cricket."
Now his work is cricket, and he is travelling the world.
It's all a far cry from the school kid, packing supermarket, shelves who was given a $10,000 contract as a rookie, then worked in a warehouse.
"I played a couple of One-dayers for NSW and was upgraded to a $30,000 contract, so I quit work to train full-time and I haven't looked back since," Warner said.
Indeed, his next Cricket Australia contract is likely to approach $1 million a year, given he is one of the very few on the 25-man list now playing all three forms of the game at international level.
Warner still cannot believe he has become a Test cricketer via the Twenty20 slogfest.
"It's still weird to me," he said recently. "I've done it back to front. Now I have to make the most of the games as they come along."
Has there ever been a greater understatement after two remarkable centuries in his first five Tests? Despite Twenty20 cricket's nature as it is, Warner believes it has made him a better player.
"If I'm building an innings it's going to help me with shot selection and to be a lot more assertive as well," he said.