Mitchell Starc, Pat Cummins and Josh Hazlewood will hope for another decent harvest against Virat Kohli's India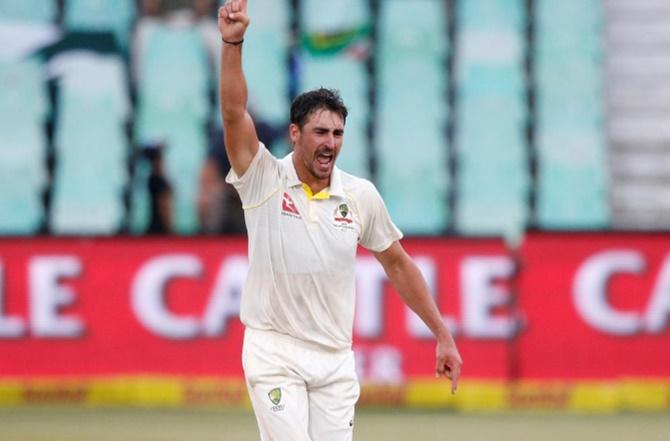 Compared to the wobbling tower of Jenga blocks that is the current state of Australian batting, the team's bowling remains a paragon of stability and boasts enough quality to dash India's hopes of a first Test series win Down Under.
As England found to their dismay last summer, pace trumps all in Australia, the home trio of Mitchell Starc, Pat Cummins and Josh Hazlewood filling their boots with more than 20 wickets apiece to help thrash Joe Root's team 4-0.
The three quicks, should they remain fit and firing through to the fourth and final Test in Sydney, will hope for another decent harvest against Virat Kohli's India.
Managing their workload will be of no small concern to Australia's medical staff given the litany of stress injuries each have suffered in the past.
All three were spared from New South Wales' Sheffield Shield match in Perth to keep them fresh for the series opener starting in Adelaide on Thursday.
The move robs them of match practice but may prove sensible in light of the quick turnaround between Tests.
Should Adelaide last a full five days, they will have only three days to recover before the second match in Perth.
The gap between the Boxing Day Test in Melbourne and the final match in Sydney is also short, so there may will be a role to play for reserve seamers Peter Siddle and his uncapped Victoria team mate Chris Tremain.
As has been the case in recent years, spinner Nathan Lyon could prove hugely important, not merely to tie up an end and give the pacemen a rest but also to be a match-winner in his own right.
The 31-year-old, his country's most successful off-spinner, has become the master of his domain in Australia, capable of exacting wickets from the most grudging of pitches with subtle variations in drift and flight.
Lyon captured 21 England wickets last summer, destroying Moeen Ali in their spin-bowling duel.
India off-spinner Ravichandran Ashwin may remember a similar schooling the last time the Test team toured Australia in 2014/15.
Ashwin managed 12 wickets to Lyon's series-high 23 as Michael Clarke's side claimed a 2-0 victory.
With former captain Steve Smith and David Warner sidelined due to their ball-tampering suspensions, Australia are much reduced from their 2015 vintage, however.
Australia captain Tim Paine Paine's batting lineup has been rated the worst Australia has ever assembled in Tests by local media, so the bowlers could well be under pressure to defend some modest totals.
All-rounder and vice-captain Mitchell Marsh will offer another pace option to relieve Lyon and the fast bowlers should he be selected, but with a batting average of only 26.08, he may need runs to keep his spot.