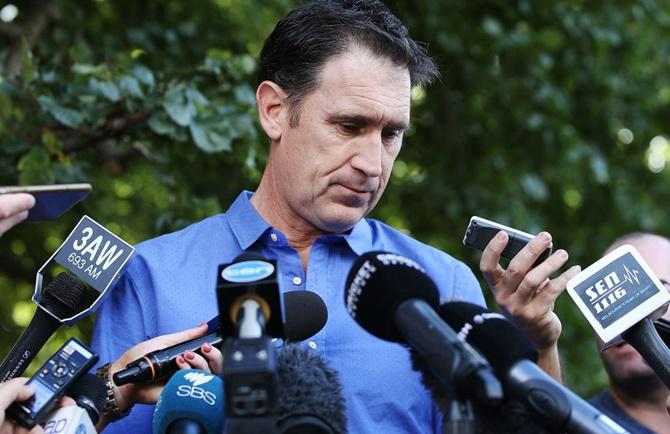 IMAGE: Cricket Australia CEO James Sutherland looks embarrassed while speaking to the media during a press conference at Melbourne Cricket Ground. Sutherland was responding to reports of ball tampering by the Australia Test team in South Africa. Photograph: Michael Dodge/Getty Images
Cricket Australia are hoping to share the results of their investigation into the ball-tampering scandal within a couple of days as they look to take control of a story that has plunged the country into turmoil.
Steve Smith stood down from his post as captain and was banned for one test match by the International Cricket Council (ICC) on Sunday after admitting conspiring to tamper with the ball during the third test against South Africa in Cape Town.
The incident has been met with astonishment in Australia, with the protagonists -- Smith, his vice captain David Warner and opening batsman Cameron Bancroft -- lambasted in the media under headlines almost universally trumpeting the word "Shame".
Cricket Australia (CA) chief executive James Sutherland said he would be heading over to South Africa later on Monday to join integrity chief Iain Roy, who is conducting the investigation.
"I am travelling to Johannesburg this evening and will arrive Tuesday morning local time to meet Iain to understand the findings of the investigation to that point, and to determine recommended outcomes," Sutherland said in a statement.
"We know Australians want answers and we will keep you updated on our findings and next steps, as a matter of urgency."
Cricket Australia Chairman David Peever said the body expected to be able to "fully update the Australian public on the findings" on Wednesday morning Australia time.
Smith, Cricket Australia said earlier on Monday, would remain in South Africa until the investigation was concluded even though he would be unable to play in the fourth test in Johannesburg later this week.
The story continued to dominate the major newspapers in Australia and abroad with Australia's belief of playing the sport 'hard but fair' in complete tatters.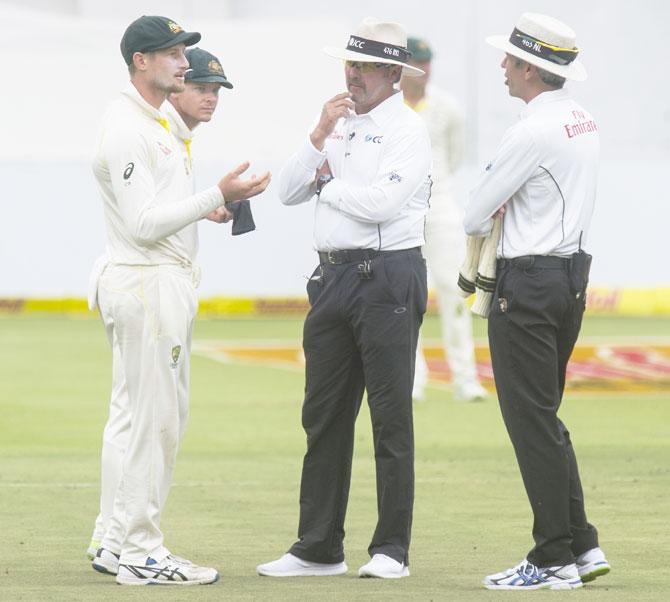 IMAGE: Umpires Nigel Llong and Richard Illingworth confront Australia's Cameron Bancroft on Day 3 of the third Sunfoil Test match against South Africa at PPC Newlands in Cape Town on Saturday. Photograph: Peter Heeger/Gallo Images/Getty Images
Smith, widely accepted as the world's best batsman of the current generation, has been reduced to a villain, with former Australian cricketers deeming his return to lead the team as untenable.
"Steve Smith's time as Australia's captain is surely up," former fast bowler and possible future Australia coach Jason Gillespie wrote for Guardian Australia.
"It is impossible to envisage a scenario where he stays in the job. This is a train wreck.
"This was pre-planned cheating. It may have been implemented by a junior player in Cameron Bancroft but it came with the backing and knowledge of 'the leadership group', a core of senior guys in the Australian set-up."
The Times of India, the cricketing superpower's best selling English daily, called the Australia side "Repeat Offenders", listing six other controversial incidents they have been involved in the past.
The news of the stepping down of Smith and Warner from their leadership roles was the top story for the daily and prominently placed on the front pages of most newspapers in India on Monday.
In more trouble for the game Down Under, Australia's major cricket sponsors, including Qantas Airways, breakfast cereal maker Sanitarium and brewer Lion, have said they were assessing their relationship with Cricket Australia.
It could not have come at a worse time for the governing body as CA are at the climax of talks about a five-year broadcast rights deal with Australian television networks.
Independent media analyst Peter Cox said the ball-tampering scandal could prove disastrous for cricket's reputation and negotiating clout in Australia.
"It could not have possibly come at a worse time," Cox told Reuters in a phone interview. "The individual incident will eventually blow over but they will lose a segment of the viewing market because of this."