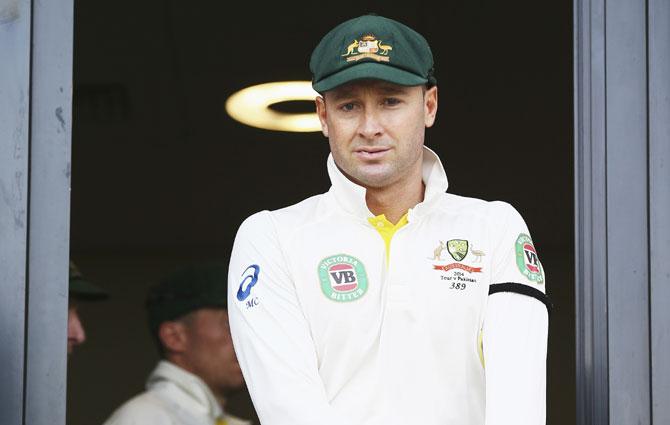 Michael Clarke of Australia during the First Test against Pakistan in Dubai. Photograph: Ryan Pierse/Getty Images
Australia captain Michael Clarke said his team would be fired up by defeat in the first test against Pakistan but clearly needed to improve in all facets of the game to square the series later this week.
The defeat by 221 runs in Dubai on Sunday was Australia's second in five Tests this year, a run which included the last victory in their 5-0 home Ashes triumph and their 2-1 series win in South Africa.
"Any time we lose a game it breeds fire in your belly, you don't like losing," Clarke told reporters in Dubai.
"Australians in general don't like losing so we've got a couple of days to prepare as well as we can and we'll look forward to that second Test match.
"Pakistan deserve a lot of credit for the way they played over the full five days. But we know we can play a lot better and we look forward to showing that in the second Test match."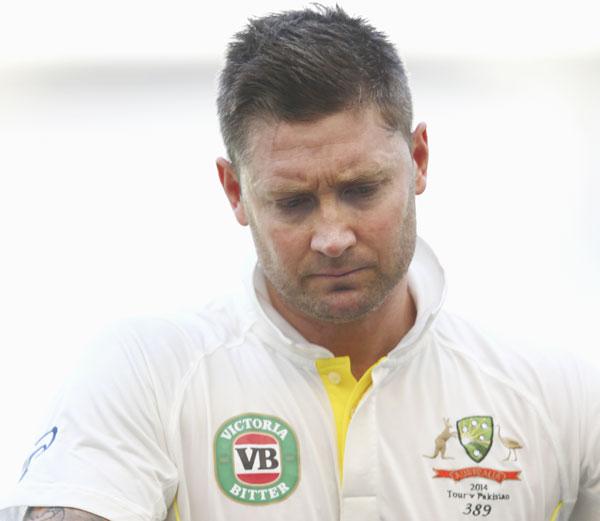 Michael Clarke of Australia looks dejected after being dismissed by Zulfiqar Babar of Pakistan during the First Test against Pakistan in Dubai. Photograph: Ryan Pierse/Getty Images
Clarke said he had been proud of the defiance Steve Smith (55) and Mitchell Johnson (61) showed on the final day, which Australia started on 59 for four chasing 438 for an improbable victory.
"I'm obviously very disappointed with the result but really impressed by the way Steve Smith and Mitchell Johnson in particular showed a lot of grit today," he added.
"They fought their backsides off and that's part of the Australian way, I guess, we weren't going to turn up here and throw our wickets away.
"We were going to fight really hard and I think those two played really well in tough conditions."
That said, Clarke was clear that a big improvement was required if Australia were to get back to winning ways in the second Test, which starts in Abu Dhabi on Thursday.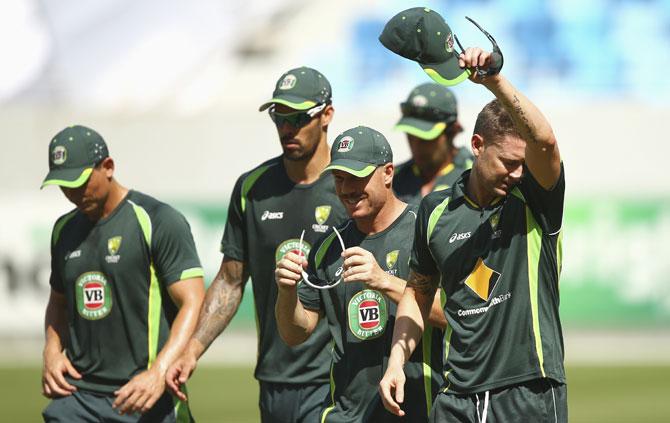 The Australian team during a nets session in Dubai. Photograph: Ryan Pierse/Getty Images
We were outplayed in all three facets of the game, our fielding wasn't as good as it needs to be," he said.
"When you lose the toss on a flat surface, you can't afford to drop catches.
"I think we've got to keep trying to find a way to take wickets, keep looking at footage of Pakistan players.
"I think we can know their players a little bit better. But it's about execution, it doesn't matter how much information you have, if you don't execute, you are not going to get the rewards."
Although the result continued Australia's struggles on the slow wickets of the subcontinent, Clarke was confident the team was a long way from the shambles of the 4-0 humiliation in India last year.
"Unfortunately, the result was the same as India," he said. "But, as a team in general, I think we've improved out of sight since that series for a number of reasons."