Australia have put their squad into 'quarantine' before next week's second Test against Sri Lanka to make absolutely certain there are no additions to their already lengthy casualty list, according to coach Mickey Arthur.
-Clarke confident he'll be fit for Melbourne
Captain Michael Clarke and pace bowler Ben Hilfenhaus were injured in the first of the three matches against the tourists, which Australia won by 137 runs in a dramatic climax at the Bellerive Oval on Tuesday.
-PHOTOS: Siddle strikes to spark dramatic Australia win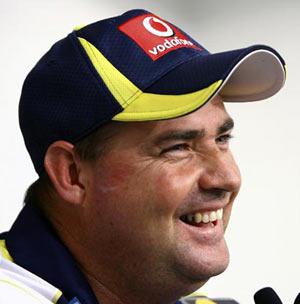 Clarke and Arthur are confident the captain will recover from his hamstring injury for the Melbourne Test, which begins on December 26, but Tasmanian Hilfenhaus's side strain means he will miss out.
Mitchell Johnson, who should replace Hilfenhaus in the starting line-up, and Usman Khawaja, brought in as backup for Clarke, were withdrawn from matches in the domestic Twenty20 league when they were called up to the Test squad.
"That's always going to be a conundrum for us, who do we play? Who don't we play?" Arthur said.
"We feel the test match on Boxing Day is massively important, we want to quarantine the 13 players. We're sitting with enough injuries as it is."
"We just think it's in the best interests of those 13 players to get ready for Boxing Day."
Hilfenhaus joins young quick bowlers Pat Cummins, James Pattinson and John Hazlewood in the treatment room, resulting in Tasmanian paceman Jackson Bird getting his first call-up to the Australia squad.
"All I can say is we've had a list of bowlers leading into our summer, and we're well down the list at the moment," Arthur said when Hilfenhaus was first injured.
Bird is the highest wicket-taker in Sheffield Shield cricket this season but Arthur indicated he was likely to be the fast bowler to miss out, with Michell Starc and Peter Siddle certain starters after taking five-wicket hauls in the opener.
"We've got a week to freshen up, which is important," he said. "And then to have the quality of Mitchell Johnson back. He was perhaps unfortunate to miss out here, it was touch and go whether he played or not."
"And then we get an opportunity to have a look at a new face, and that's always exciting. It brings a freshness and really looking forward to catching up with Jackson and seeing what he can offer."
"I haven't seen enough of him play ... but if he's bowling consistently at 140 (kph) then he's got huge potential."
More good news for Arthur was that his top order looked solid in Hobart with Phil Hughes returning after a year in the wilderness to hit a solid 86 in the first innings.
Clarke, the most prolific run maker in the world this year, has been the mainstay of Australia's team but Arthur said that if he was not fit, Khawaja had earned his right to a recall.
"I don't think we would have picked him if we didn't think he was showing that continued improvement that we wanted from him," he said.
"Uzzy's done well, it's no coincidence that Phil Hughes and Usman Khawaja are one and two in the amount of Shield runs."
"They've thoroughly deserved their chance to come back after losing their place in the side here a year ago."
Australia would be facing a very different run-up to the second test had they failed to take six wickets in the final session and take a 1-0 lead in the series.
"You really want to win close games, we thought we played really good cricket over the five days so to finally get the reward was massive for the side," Arthur said.