'If they are going to get into a battle verbally, if it gets the best out of them, then go for it'
Australia captain Steve Smith suggests that he won't hold back his players if exchanging words with the opposition will fire them up.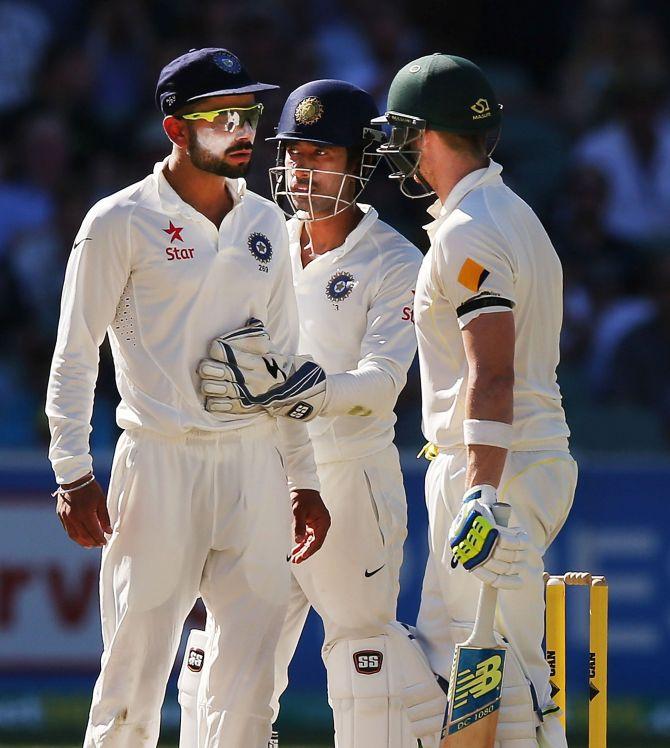 IMAGE: Virat Kohli and Steve Smith were famously involved in an altercation during India's tour Down Under during the Australian summer of the 2014-2015 season. Photograph: Michael Dodge/Getty Images
Australian skipper Steve Smith has asserted that his team won't shy away from sledging and verbal battle in the upcoming four-match Test series against India, beginning February 23 at Pune.
"If they are going to get into a battle verbally, if it gets the best out of them, then go for it. It's all about us making sure that we are in the right mindset to succeed and if the guys want to get into those kinds of battles then go for it," Smith told the reporters on Tuesday.
"In the end it's about us playing on skill and making sure that our skills are in the best place for us to succeed in these conditions," he added.
Earlier, former Australian batsman Michael Hussey had said that Virat Kohli will be Australia's "public enemy number one" during the upcoming Test series against India. He, however, had advised Smith and Co. not to sledge him as it would bring the best out of the Indian captain.
Kohli has been India's dominant batsman in the last couple of years and he made Australia pay a price for verbally targeting him during the Boxing Day Test at the MCG in 2014.
He scored his then personal-best of 169 in that drawn match and took aim at those Australian opponents with whom he had sparred during his innings.
Australia last toured India in 2012-13 where they got hammered 0-4. Australia later defeated India 2-0 in a four-Test rubber played Down Under in the 2014-15 season.
Australia have not won a Test match in India since 2004 and their last series win in Asia came against Sri Lanka in 2011. They have since suffered nine straight Test losses in the subcontinent.
On the other hand, India are in sublime form as they have not lost their previous 19 Tests and defeated Bangladesh by 208 runs in the just concluded one-off Test in Hyderabad.
India and Australia kick-off the series with the first Test in Pune (February 23-27), followed by games in Bengaluru (March 4-8), Ranchi (March 16-20) and Dharamsala (March 25-29).