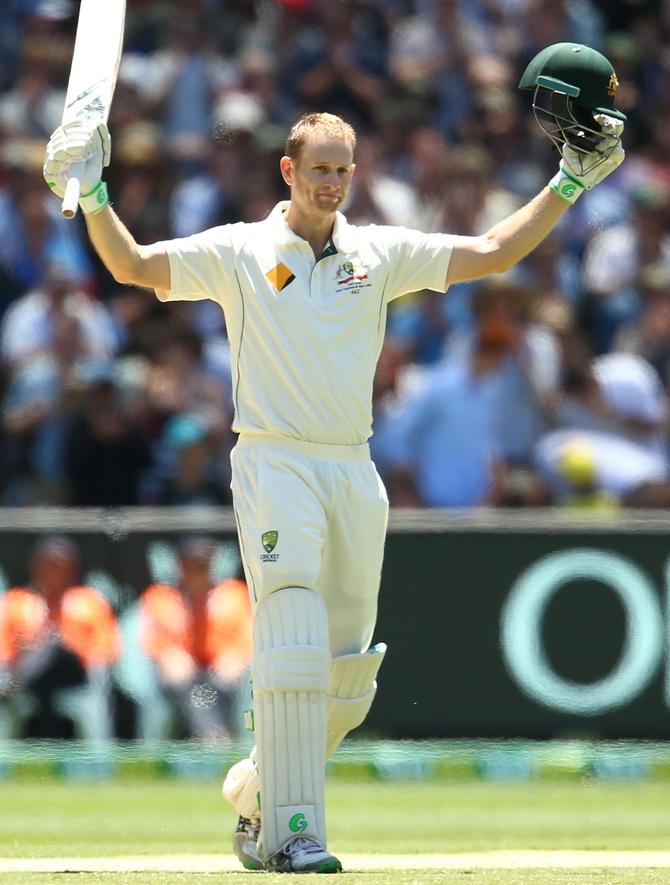 IMAGE: Australia's Adam Voges retires. Photograph: Scott Barbour/Getty Images
Late-blooming Australia batsman Adam Voges and spin bowler Xavier Doherty announced their retirement from international and state cricket at the end of the domestic Sheffield Shield season on Wednesday.
Voges, 37, produced a mountain of runs in a 20-Test cameo late in his career and leaves the game with the second-highest batting average (61.87) among players with at least 20 innings.
Only the great Donald Bradman, who averaged 99.94 from 52 matches, has a better record than the mild-mannered Western Australian on the all-time list.
Cricket Australia CEO James Sutherland praised Voges' impact both on and off the pitch.
"Adam has made an outstanding contribution to Australian cricket, and we congratulate him on his achievements with both Australia and Western Australia," Sutherland said.
"An exceptional batsman and leader, Adam has represented his country in exemplary fashion not only with his run-scoring feats, but also in the manner with which he conducts himself both on and off the field."
Left-arm spinner Doherty bows out at 34 after playing 60 one-day matches, 11 Twenty20's and four Tests in an international career spanning 2010-15.
The slow bowler, nicknamed 'X', would still be available for the domestic 'Big Bash' Twenty20 tournament in the Australian summer, Cricket Australia said.
Voges played 31 ODIs and seven T20I's from 2007-13, recording exceptional batting averages of over 45 in both formats, but he will long be remembered for the late flowering of his Test career.
Dominant at state level, he appeared destined to join the long list of top Australians never to play a Test but that all changed when he was called up for the 2015 West Indies tour at the age of 35.
He became the oldest player to score a century on debut with an unbeaten 130 in the match at Roseau and later piled on the runs in a golden home summer against the same side and New Zealand, plundering a double-century from both.
He was dropped after a lean patch in Sri Lanka last year and against South Africa in the home series, and while some felt he had been harshly treated, Voges never complained, having felt blessed to scale the heights so late in his career.
However, his omission took its toll, Voges revealed to local media on Wednesday.
"This season has been particularly physically and mentally tough, after being left out of the test team and no longer having the carrot of international cricket to strive for," said Voges, who will play for English county side Middlesex in the upcoming season.
"Ultimately my form this season hasn't been good enough."
Already Western Australia's most successful Sheffield Shield captain in terms of wins, Voges will hope to another to his haul against New South Wales this week to keep his state's slim title hopes alive.