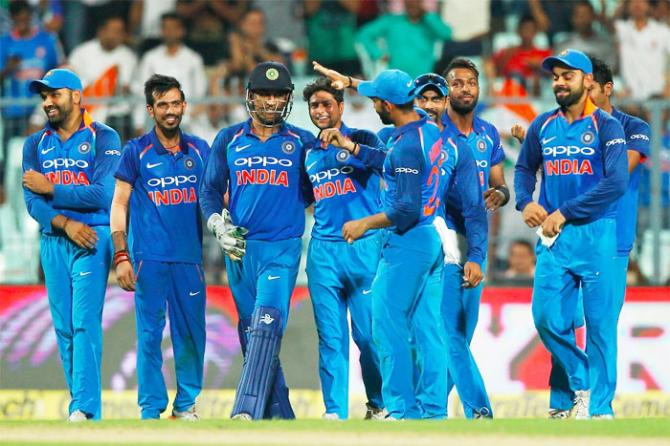 IMAGE: India's players celebrate after taking a wicket at the Eden Gardens on Thursday. Photograph: BCCI/Twitter
India's captain Virat Kohli could not wipe the smile off his face after beating Australia in the second ODI at the Eden Gardens on Thursday.
And he had plenty of reasons for it.
To begin with, his bowlers did well to give the team a chance after the batsmen put up just 252 on the board.
Praising his bowlers, Kohli said, "Bhuvi's (Bhuvneshwar Kumar's) spell became even more important because we knew the wrist-spinners would do damage in the middle. The deliveries he got the batsmen out with were unplayable. You can count on Bhuvi for getting the breakthroughs.
"Two young spinners bowling with a lot of heart, speaks volumes about their characters. Really augurs well for us how the team is shaping up," said the captain, who was adjudged Man-of-the-Match for his 107-ball 92 in India's 252 all out.
Kohli conceded that he felt his side did not have enough on the board at the innings break.
"We did not feel like we had enough at the break. But we knew if we had a good start we have a good chance of defending it. We knew if we don't take wickets it would be difficult. To be honest, the wicket was not easy to bat on throughout the day," he said.
The other reason for the big grin was his own batting on the day.
Talking about himself, he said, "I always try to create that kind of motivation for myself. Sometimes things don't come off for you but I try and stay in the same zone.
"It was not easy to bat, plus the bowling attack was quality as well. Came off today, so it looked nice. Did not come off in Chennai, so it did not look nice."