Yadav also claimed a hat-trick against Scotland in the 2014 edition of the Under-19 World Cup, becoming the first Indian to achieve the feat in the competition.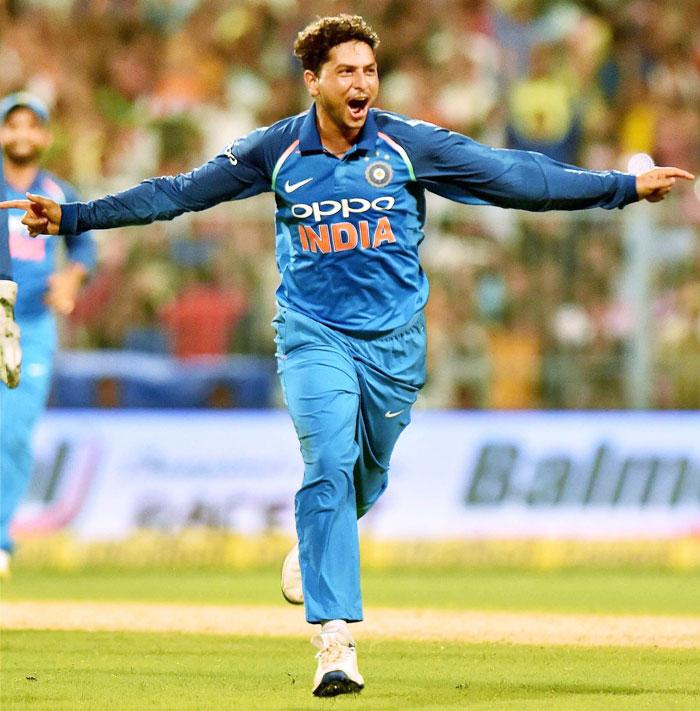 IMAGE: India's Kuldeep Yadav is pumped up after registering his first One-Day International hat-trick, in the second ODI against Australia at the Eden Gardens, in Kolkata, on Thursday. Photograph: Ashok Bhaumik/Reuters
Chinaman bowler Kuldeep Yadav stole the limelight in the second One-Day International against Australia on Thursday, becoming only the third Indian to register a hat-trick in One-day Internationals.
Following the memorable feat, he joined Kapil Dev (1991) and Chetan Sharma (1987) in a select club of Indians who have claimed a hat-trick.
The Australian batsmen failed to read him well in the first ODI Chennai, and it was no different on Thursday evening.
In an all-round bowling effort from the home side, Yadav joined the party by sending back Matthew Wade, Ashton Agar and Pat Cummins in as many balls to send the Eden Gardens crowd into a frenzy.
His best ball, without doubt, was the hat-trick delivery. The young spinner showed remarkable calm while bowling the wrong one, which took a thick edge of Cummins's bat before landing into the hands of Mahendra Singh Dhoni.
Yadav got through Wade's stumps before trapping Agar in front to be on a hat-trick.
This is not the first time that he registered a hat-trick for the country.
He also bagged one in the Under-19 World Cup against Scotland, in the 2014 edition of the tournament, becoming the first Indian to achieve the feat in the competition.
Yadav later said it was a special night for him.
"Initially I was struggling to bowl in a particular area. It is a game of cricket, everything happens. Last match, where I was hit for three sixes in an over, it was a learning experience," he said.
Asked how he planned the hat-trick ball, he added: "I asked Mahi bhai (Dhoni) what I should bowl, he said 'tujhe jaisa lagta hai wo daal (bowl what you want)'. This is special for me, changed the game for us. Really proud moment."